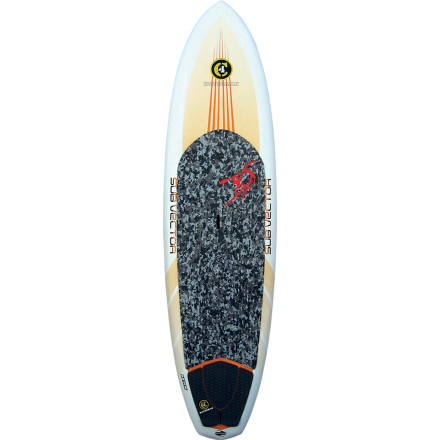 Description
An intermediate-level SUP for speed over open water and fun, aggressive performance in moderate surf.
Built for the stable speed you need to drop into a good break, and the agility to rip said break to shreds, the C4 Waterman SUB Vector Stand Up Paddleboard brings short-board performance to your SUP style. The three different lengths suit different sized riders, but each board was shaped by Dave Parmenter for intermediate surfers or SUPers looking to advance their wave riding skills.
Flat bottom and concave deck enable a lower center of gravity and quick turns not seen on SUPs in the past
The Hard Diamond Tail, short length, and contoured rear deck traction pads add to the Vector's agility
Thermal Epoxy Compression technology melds the EPS foam core and high-density divyncell foam outer layer together with epoxy, compression, and heat
Three divyncell and fiberglass stringers below the deck laminate provide strength and rebound for a sturdy and responsive ride
Five fin boxes allow you to add and interchange fins to match your riding style, from quad to 2 + 1 fin arrays
The 9-3 Vector is the most aggressive SUP built by C4, handles up to 250lb, and includes two Futures SB1 350 fins and one seven-inch center fin
The 9-6 Vector features a thinner and narrower shape, handles medium-to-large sized riders, and includes four fins for a quad array
The 10-0 Vector is thinner and narrower than the others, handles the biggest riders, and includes four fins for a quad array
Share your thoughts
What do you think of the
C4 Waterman
SUB Vector Stand-Up Paddleboard
? Share a...
Posted on
How much do these sub vector SUP boards...
How much do these sub vector SUP boards weigh? I don't see it in the specifications...
Responded on
25 lbs for the 10 footer. 23 lbs for the 9'3.