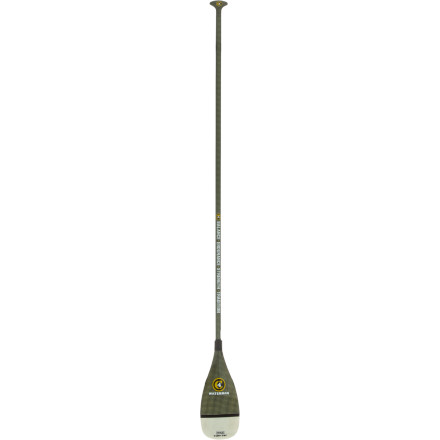 The one-piece C4 Waterman Dynel Tuff Tip Paddle is the ideal paddle for the aggressive SUPer who likes to explore rocky shorelines or who dares to test his or her balance and skill on swift-flowing rivers.
Ultra-lightweight, super-stiff carbon shaft for powerful propulsion
Dynel tip on the blade protects the fragile carbon skin from rocky river banks and bottoms, reef in shallow seas, and gritty shorelines
Carbon and Kevlar skin adds serious stiffness to the lightweight, buoyant foam blade
Keel-shaped blade maximizes power and efficiency as you drive through the water—dihedral profile reduces hangups at the end of your stroke
Six-degree bend angle at the blade allows you to get sufficiently powerful strokes that are ideal for flatwater, waves, or river paddling
Ergonomic handle sits in the palm of your hand for long-term comfort and power transfer
What do you think about this product?
Have questions about this product?
Is handle loose, so can be removed , so...
Is handle loose, so can be removed , so paddle can be cut to size?
It's really difficult to tell, but from the images, the handle and shaft appear to be fused, so you probably cannot cut this paddle to size.
yes the handle is loose... you will have to glue it in... so not sure what it does to the warranty??? the shaft could be cut to size