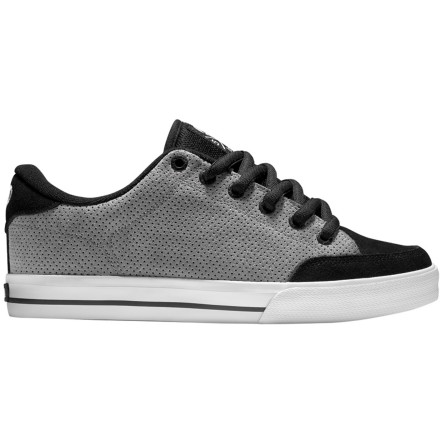 Detail Images

Community Images
Sometimes your day consists of riding to class, bombing a few hills between classes, and then riding home to do homework. Sometimes it's good to have some extra shoes kicking around for dates and visiting the parents. That's why it's important to have a pair of C1RCA Adrian Lopez 50 skate shoes in your collection. They're tough, they're comfortable, and they don't look all beat like your other shoes. Yet.
Share your thoughts
What do you think of the
C1RCA
Lopez 50 Skate Shoe - Men's
? Share a...
These shoes are more bulky in person than they look here on the picture. I like more of a sleek look so they weren't for me. However my friend just got a pair and they are his new favorite skating shoes. Guess you have to be a skater to rock em and love em.
I have always heard good things about Circas but never had a pair. I decided to pick some up when I found them on super sale and I was surprisingly disappointed. There isn't thing I like about these shoes. First off, the ones I have are pretty ugly, given, this is my fault and I accepted the doodoo brown because of the sale(I mean 70% is sweet), but figured I would just wear them to skate in. They seemed fine at first, not really anything special but after a week the soles had packed out and they were uncomfortable to stand in for longer than an hour. Now the durability, so after they became uncomfortable I decided "Hey I'll just kill 'em skating they should last at least a semester." I longboard, this isn't near as hard on them as shortboarding. But these puppies came apart in a month, only skating once or twice a week. The sole melted away like butter and began to come apart from the upper. By this point I was done with them, so I just wore them on race days when I knew I would be foot breaking a lot and just burned em up. Long and short of it is, that I was fine for the price I paid, but would have been furious if i had paid anywhere near list price. I think I may give C1RCA one more chance though before I count them off.
One word for these shoes, durability. These shoes are built to last. I have been skating mine for two strong months, around 3-4 times a week at the park or street. Great board feel, awesome low-profile feel and look, great shock absorption even with the board feel (you usually find one as a trade off of another). My only complaint is that I break my laces about twice as often as I did with my Supras. Not a big deal, breaking laces happens. Fits true to size.
yeeeeeeeeeeeeeeeeeeeeeeeeeeeee
great shoes, even after a year they're still lookin' pretty new
These are my 4th pair ... BEST shoes EVERRRRRRRR!.
I've tried switching.. had a pair of DVS's and 2 pair of globe fusions.. lopezs are by far my fav. If you don't get a pair, I'll kick your ass.. hahaa.. totally worth the money.
these shoes are the most amazing shoes ever to touch my feet. they are so amazingly comfortable i cant even begin to tell you. sometimes it take a week or so brea them in but are so worth it. i have two pairs and wear them everyday. i would pick my old ripped circa lopez 50 skate shoes over any other shoe in the world. hey look great with everything.i wear jeans t-short and hoodies everyday and they look good with it. i would definitely suggest you get yourself a pair or two. they are way worth the money.
i have one pair of the billons styles. and 2 pairs of these white ones there.. kickass comfortable and there not all big they fit nice and snug
These shoes are awesome!! especially for the price! They look good n feel good! They run a lil big for me so you might wanna order them half a size down. Other than that they're great!
I dunno why everyone says these shoes wear fast. They must treat their shoes like shit. I have had mine for over a year and am just staring to get a hole. They have thin soles so you can feel your board. Great to skate in. Great to chill in. Simply the best shoes i have ever worn, and i have worn alot. Load up on pairs while the price is low. That's what i did.
ya these shoes are dope, they get dirty real easy and you cant clean them but there sooooo comfy
They are so comfortable and cool, what else can I say...
What can I say? These shoes steez hard. No complaints. I bought three pairs of these bad boys when they were on sale and I rock em all. So steal money from your moms purse and buy your self a pair.
these suck i tried them for five weeks and the sole ripped off thats why theyre light but they are comfortbal and lok kool
I have had these shoes for two and half years and amazingly they are still holding up! I don't street skate, but i longboard everyday and when slidding, shoes can get pretty messed up. But the triple stitched toes have held up and he vulc has not come apart at all like many vans shoes i've purchased. these shoes are so durable and have sick style; i would recommend them to anyone.
Awesome, great skate shoes, but the soles are very thin. Awesome.
I'm very pleased with my new shoes. Everybody that I've shown them to in Denmark really think they are really nice. They are nice to walk in, but I wondered why the sole is so thin, is it because, it is a very quality, so I don't suddenly have a hole in my new favorite shoes? I really don't want to wear a hole in my new shoes, but I'm very pleased with the shoes.
This shoe has style and comfort good for both going out or just to skate in. It's light weight so it's easier to move around in.