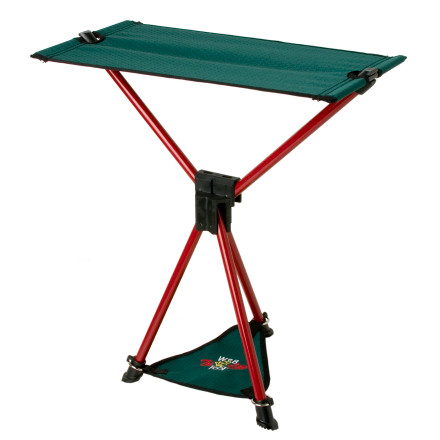 Colors

Detail Images
Description
Amazingly compact seating.
The Byer of Maine Tri Lite Folding Stool is a lightweight, super-compact perch for marshmallow roasting. Byer of Maine constructed the Tri Lite from aircraft-grade aluminum (so you know it's durable) and a full-width canvas seat to cradle your bum. Best of all, this camp chair folds up to fit in the palm of your hand, so it's a no-brainer for multi-day camping and backpacking trips.
The quick fix for the missing chair
Familiarity:

I've used it once or twice and have initial impressions
I first used this chair at a music festival. When you hike out from your campsite at one of these things, you don't want to bring too much crap to haul around. This little guy is about the size of a small umbrella and not much heavier.



Is it a great chair? No. It's barely adequate. However, it will let you take the load off your feet and after dancing for several hours, that's a good thing. I'm also a musician. I can't play my guitar in one of those big camp chairs because of the arms. The TriLite allows me to sit down and jam unimpeded by protruding bits of the chair.



If you want something that you can totally relax in, keep looking. However, if you want a small, lightweight seating option for a quick load off your feet, this is the perfect tool.



Since I've only had it for a short time, I cannot speak to its durability, but it seems pretty well made.
Byer of Maine TriLite Collection
This stool is very unique. There aren't a lot of really good lightweight seating options out there. When I received this stool I was amazed at how small it packed. It is also super fast to assemble. There are a few drawbacks the footprint on it is pretty small and isn't very stable. It also is not the most comfortable seating choice. So you have to ask yourself if you want comfort or something lighter. All said and done for the price and the size I was impressed.
The Best Little Folding Stool
The TriLite Folding Stool is one of the best purchases I've made recently. It's a great addition to my hiking gear. It's lightweight, comfortable, and tucks away in the backpack or outside the backpack just like an umbrella in a briefcase. Looking forward to using it on many future hikes and camping adventures.
can i purchase replacement canvas for my...
can i purchase replacement canvas for my stool?
Grady, the manufacturer is your best bet, go here:

http://www.byerofmaine.com/byer-of-maine-warranty-information.html
I bought mine about 7 years ago. It has been on many backpacking trips and is still in great shape. I consider it somewhat of a luxury item so I don't bring it on every trip. I DO bring it when I know the ground is going to be wet or if I am camping in snow. It is also super-handy when filtering water out of a creek. I took away one star for weight but I would buy another one if I had to.
where on the chair broke? fabric? connecting...
where on the chair broke? fabric? connecting joints?
Best Answer
All three I have seen broke at the connection joints. The pins that attach the legs to the plastic hub would work loose... at first I thought I could just put the pins back in, but after two or three repairs the chair would just fall apart the second you sit in it.
These come in two sizes: One for up to 200 lb., and one for up to 275 lb. So be aware when you are considering things like height and "will they break".
If you use this thing vary carefuly, you may be OK. If you plan on taking it into the backcountry, be prepared to carry dead weight. I have been through two of them and they both broke on the trail. A friend of mine had one break on him as well.
Nope, I was wrong. It's only about 20 inches high. I looked it up on their website.
Is it really 29 inches tall?
Is it really 29 inches tall?
No it is not. Here is the dimensions. Set -up 9½" x 19" x 22 ½"
Can I used this at the beach as a foot...
Can I used this at the beach as a foot rest with my beach chair? If so, what is the height and weight of this please.Thanks. Peggy Meintjes
It's about two and a half feet tall, weighs 21 ounces. You can use it for whatever you want.