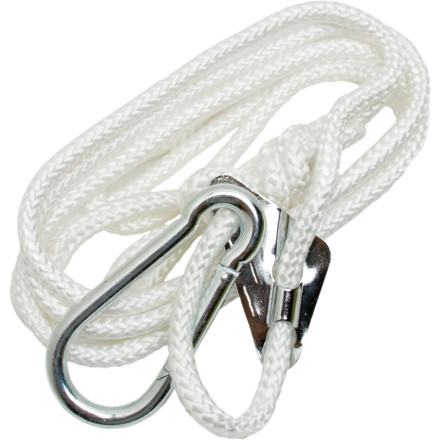 Hang your hammock with ease with the help of the Byer of Maine Smart Rope hammock hanging system. Simply wrap the rope around the support, thread the adjuster through the loop in the rope, and attach the hammock with the included 7/16in snap hook. Presto, you've hung one end of your hammock without drilling a hole or trashing a tree. Adjusts to take up to six feet of slack.
What do you think about this product?
Have questions about this product?
pretty straight forward, easy to use- does the job.
does this item include a pair of the ropes...
does this item include a pair of the ropes or is it only one?
Um, Wow! It comes with just one very expensive piece of rope and some very basic hardware.



Here's a couple other alternatives that come in pairs and are easier on the trees. item # HMK0017 or item# EGN0004



Type either into the search box above and they'll come up for you. Hope this helps.
I'd be leary of using a rope to wrap around the tree. Use a strap of some sort insead, at least an inch in width to avoid damaging the cambium of the tree. There are much better suspensions then rope.