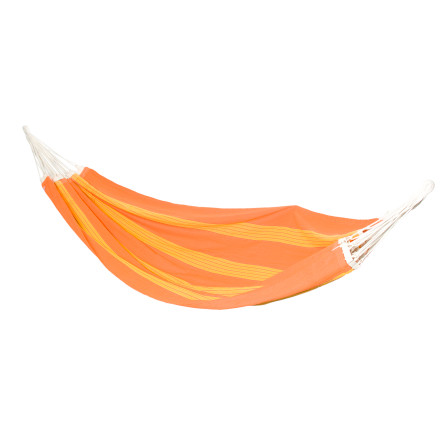 Detail Images
Curl up with a cutie in the Byer of Maine Paradiso Double Hammock. This oversized, Brazilian-made hammock has room for two and features 100% cotton construction so it will stretch and conform for ultimate comfort.
What do you think about this product?
Have questions about this product?
Cotten, a rotten fabric to use for hammocks
Why is cotten ,which rots quickly in the weather, the only fabric used in the spreaderless type hammock. Why not a fabric that will last outside. I feel cotten is a safty hazzard due to the hidden rot issue finding out it is rotten when you have ripped it out and now are on youy back on the ground or on your way to the doctor!!!
Where do I begin. Okay, let's say for the first time in 20 something years and all of a sudden I couldn't sleep on anything without back pain. First normal spring mattresses- then after 20+ years even a Futon wouldn't do. Enter the Hammock bed.

I bought this very Hammock a year ago. I bought it for durability because I would be using it as a bed. One drawback is elbow burn because the hammock cotton is a bit ruff. But I've gotten used to it. Another dback is I found the sides of the hammock with too much slack. You want the sides to have more tension vs the middle. I know, a bit confusing but here's this- after a year mostly in this thing, I decided to go ahead and buy a mayan Hammock to test but before that I took scissors to the Paradiso. I cut the strings off and fed the tie rope through the 20 loops at each end. This increased the side tension meaning you could lay your head at the near edge and still have support as before it was sagging and now I love it more than ever!

Yes, I tweaked it... but let me say it took a year and for you bed wannabees it's much easier washing a hammock without all the strings attached and because this hammock has large loops at the ends, if you cut the strings- just feed your main rope through. This may not be the softest hammock for sure, but it is durable and oddly it is more comfortable than the new mayan hammock I just bought- so I'm sticking with it. Rather than roll it up I tie it against the wall with a velcro thingy.

Thanx BC for a year of better sleeping.
Why do they make a hammock out of cotton...
Why do they make a hammock out of cotton that will rot in a matter of months? Why cant I find one like the Main P Double out of sunresistant material like sunbrella? Why do I have to get in a possible rotten cotten hammock and break my bloddy neck?
Amen! You can always treat your cotton hammock with a water seal, like Thompsons, this will help a LOT...

http://www.thompsonswaterseal.com/