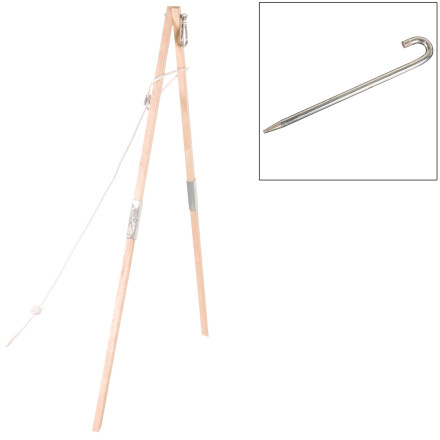 Detail Images
Is your one-tree situation deterring you from getting a hammock? The Byer of Maine Madera Hammock Stand gives you a sturdy hanging point for the treeless end of your Byer of Maine Hammock. Just slip the hardwood bars into the metal sleeves, stand them up, stake the anchor pin into the ground, and adjust the rope to the correct length. Easy as one, two, three. Uh, four. Just hang your hammock and you're good to go. Byer of Maine included all the hardware you'll need to set up the Madera Stand.
What do you think about this product?
Have questions about this product?
This bipod hammock stand is terrible and has injured me a few times despite using it exactly as directed. It is difficult to setup and get the proper angle, and then even when you do, you have to worry about the big metal stake pulling out of the ground (happened several times in different types of ground), the lower legs detaching, or the eye bolt breaking apart. I have been extremely dissatisfied with this product evey time I've tried to use it and am fortunate to not have been injured worse than I was on those occasions. But I have also been very dissatisfied with the few other Byer products I have wasted my money on.
can you use two of these if there are no...
can you use two of these if there are no trees present?
I don't see any reason why not, though it might be a little finicky getting them adjusted.
Unanswered Question
I have one tree so this is great idea but...
I have one tree so this is great idea but it doesn't look like it would hold up a 250 pd. person. How does it keep from collapsing? Thank-you