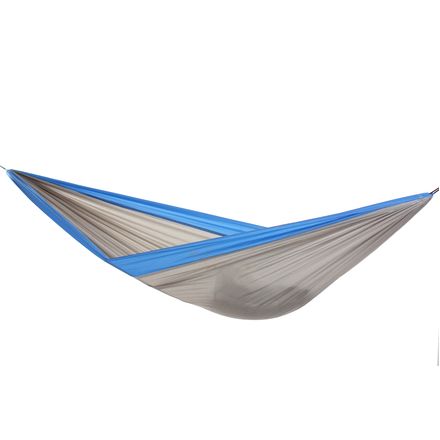 Colors

Detail Images

Community Images
Description
You'll be the envy of your backpacking party, guaranteed.
Say goodbye to the hard―and possibly wet or cold―ground (and all that crawls around on it), and spend your nights in the backcountry in the Byer of Maine Easy Traveller Hammock instead. Constructed from lightweight, quick-drying parachute nylon, this hammock folds easily into your pack and provides unparalleled siesta or overnight comfort. Set-up is a breeze thanks to the included MicroRope kit, which quickly and easily secures the Easy Traveller to two trees. The hammocks stows easily in the stuff sack, which is attached to the side of the hammock to hold necessities like a flashlight or a snack.
I was nothing but impressed with this hammock. I slept in it the "incorrect way" and slept through the entire night. I highly recommend it to anyone, especially backpackers. The built-in straps are clutch, so easy to set up.
Is this material waterproof?
Is this material waterproof?
Not at all. I doubt you're going to find an open hammock made of waterproof material. It tends to turn into a bathtub.
I love this hammock, it's lightweight, packs down easy into a little pouch, came with rope and toggle hooks all attached and is comfy. I bought it to take with me for Peace Corps and have been trying it out in my backyard first. The only thing that was a little strange to me it it's "Brazilian" style, meaning you are supposed to lay in it along the narrow part, perpendicular to the long part (or on the diagonal) which seems strange for a hammock.

However I laid in it the "wrong" way, longways along the long part, and that works too, except the excess material along the sides flops over a bit, but I viewed this as an added bonus as sun protection.
is there a weight limit? and how strong...
is there a weight limit? and how strong is the nylon cord kit?
The weight limit is 250lbs.
I took the hammock up into the Olympic Mountains and all our group loved it. People sat and read or lounged in it in the evening. Sets up easily. If breezy, just wrap it around you like a cacoon.
, ☃bcs_badge_alumni_label☃
Slept like a baby...
I took this hammock on a trip down to Havasupai and loved it! I napped in it and slept in it at night and I haven't slept that well in while. As someone who usually wakes up with a sore back from sleeping on my stomach, this was perfect. It forced me to sleep on my back, but kept me cradled and comfy the whole night. I tried to sleep in the tent one night and ended up getting up and heading to the hammock after a couple hours of tossing and turning.
I tried this hammock both with my sleeping pad and without...if it was chillier I would probably use the sleeping pad again, but it was nice and warm in Havasupai and this hammock needed no help to be a comfy cozy bed. It comes with super easy to adjust microrope dealio ( I will try to post a pic of it soon). My friends had the Byer of Maine Parachute Traveller Hammock and I have to say having that the built in hanging system was a real plus...they ended up packing more than the added 8oz this one has since they brought webbing and biners anyway.