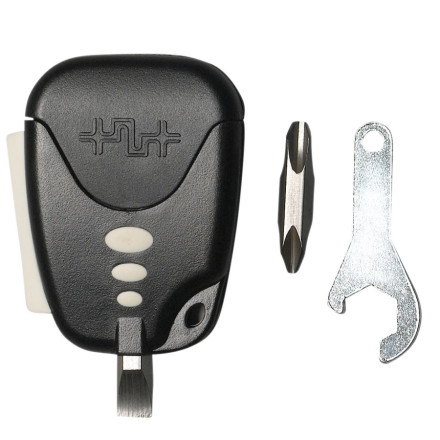 Description
Don't get caught with your pants down (or your bindings loose).
The Burton Zip Tool leaves you with no excuse for being unprepared on the hill. The ultra-compact shape takes up almost no space, yet it includes all the tools needed for adjusting or repairing your setup. A bonus built-in goggle squeegee helps you remove frozen powder from your goggles without scratching them like a lotto ticket.
Great little tool. The magnet held tips securely, even after several days of riding when I pulled it from my pants pocket the tip was still in place. One of my instructors couldn't use this tool to turn the screw on the foot bed of his binding, so he couldn't access the base plate to tighten its screws. Due to its width it's not universal.
Not a bad tool for the money i wouldn't by it i would just use the Burton Bullet tool instead but for on the mountain uses i would totally use it.
Very small light weight and compact tool. This is a great pocket tool. One thing is that it does rust over time and the goggle squeegee scratched my lens. But when your ready to drop and notice your binding is loose this is where it really counts. You will not notice it in your pocket.
Love this tool, fit's in those super small pockets. I have had one of these for 6 years and take it every time I go out, it works great, it's super compact so not to worry about falling on it. It's great for simple on mtn adjustments.
I carry this with me every day. Very small, very handy, just watch out for the bit- it's only held in magnetically. Definitely one of the handiest tools around!
This thing has saved me so many times, it's a perfect tool to take with you. Super small and light, has everything you need for a quick fix. I don't go without it.
How small are your fingers?
This has the necessary tools for adjustments mid-mountain, but you gotta have thin fingers and menace grip to pull out the tools. Sometimes I just wait until I'm at the bottom of the hill to borrow a couple screwdrivers from someone else. Also, don't drop the bits, they'll be lost in snow.
In my opinion, it is the best gloves-on tool you can find for the money... It works great, packs small, and really only works well with gloves on. I mean you can use it without gloves, but it really is meant to be used with gloves on which is perfect when the wind is howling and your binding is broken. Tip: Attach to lanyard or retractable leash so it doesn't get lost in POW!! Ride on!
You would think that whoever designed this tool would have at least tried to adjust a pair of Burton EST bindings with it. Apparently that is not the case as the side of the tool will hit the side of the binding and make it almost impossible to turn. I'm usually very happy with Burton products, but this one is a total dud. For $10 go to the local hardware store and get a good screwdriver.
not worth the money. it breaks easily and its not comfortable at all.
Great tool. All I will ever need for adjusting my bindings. On the lift, the ice scraper on the side actually helped to clean the snow off my goggles.

The tool is magnetized so the bits will stick to the tool.
Awesome very usefull, easy to use highly recomended.
In the David and Goliath of tools, this is David
Love this tool! Super slim and small (the thickness of 2 casino poker chips), bits all store inside of tool so nothing to stick you when you fall. Good for binding adjustments, re-positioning if needed and also nice goggle squeegee saves you on those icy mist days that doom any goggle. All you need for an on mountain tool (Not a tool for tuning) Great for what it is. I ride a lot of days each season being a snowboard instructor and have had it in my pocket now for 4 seasons. Love it!!
this WAS a good tool the first 2 moths i had it. after that, the bits started to rust and the bits didnt fit in the hole at all, they fall right out. it doesnt take up much space in your pockets but its not worth the $10 to just fall apart later on.