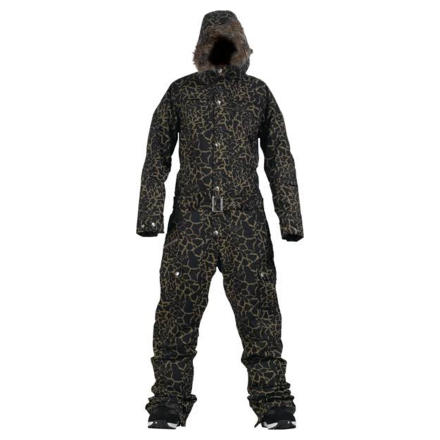 Is this product vegan? :)
Is this product vegan? :)
It appears so. Hood detail features faux fur and from what I can see, no signs of leather.
I am 5'2 and 130lbs. I'm debating between...
I am 5'2 and 130lbs. I'm debating between a small and a medium. I have super short legs (28" inseam) and a pretty long torso. I mostly ride in warm weather (20-50F) but HATE getting wet when I tumble. anyway, can anyone tell me how this suit is proportioned? what's the torso/leg ratio? i'm afraid that if I get the small I won't be able to bend over and layer comfortably.
It all depends on how you like your outerwear to fit. Baggy or a little more fitted, The small's inseam is at 29 inches and the Medium is at 30 inches. I would measure the rest of your body and go with the sizing chart on the top of the page. You will be stoked on how comfortable this is.
do you have this item in black size s?
do you have this item in black size s?
Sorry, they only have it in the black print.
I am 5'7" and slender - ended up ordering a medium on the reps suggestion (couldn't get a proper measurement of the hip size) . . . WAY to HUGE! I looked like I was wearing my husbands suit (he's 6'1 and 200 lbs!)Had to return it - too bad!
my girlfriend is 183 cm high - what size...
my girlfriend is 183 cm high - what size would be better to pick up?
I would assume the Large or XL. Check out her inseam, The large is 79cm(31inches) the XL is 81cm(32inches) go by the inseam, it will give her a better fit.
Great On Hill Wardrobe Addition
The suit is a wonderful change from a separate jacket and pants. Don't have to fumble with any zippers or snow down the pants. Definitely have to layer up on colder days, but plenty of pockets both inside and outside to stow extra stuff. Definitely worth the addition to on the hill wardrobe.
Why is the price up? How am I going to...
Why is the price up? How am I going to do if I need to change size? I got a bigger one already.
Contact DogFunk directly if you need to return your purchase. I'm pretty sure the price is down not up. This retails for $350, now you can get it for $210. That is 40% off. Great deal.
i'm 5'6", 110 lbs and tried both the XS and S. XS fir well... a nice slim fit, but i could only fit one base layer underneath. the S gave me a little more room (which you'll need since this is really only a shell) for thick layering and impact gear. i LOVE the safari chic print (love, love, love), but ended up exchanging for the black for a little more "shelf life" (i want to wear this forever... on AND off the slopes!). the pants are boot cut, and from head to toe this suit gives you a nice curvy shape that you can't get from the standard jacket/pant combo.

all the tech features (venting, pockets, fabric, etc...) are GREAT– typical burton! the fur on the hood is way cute but limits your peripheral vision. it's removable, so no biggs!

last... thought i'm 100% loyal to burton, i would not have bought this at the original price $350. $210 at dogfunk is a great price! thanks guys- you are my go-to!!
i love this snow suit. a one piece rocks i may have to get the whote as well. i love it it fits great. it is nice and warm and the venting is great. it is my new favorite. i even used it to walk my kids to school in a 5 day snow storm. with just my p/j.s underneath.
I bought mine at the end of 2008/2009 season... Maybe the 2010 version has improved.... BUT...The two pockets on the front of the hips don't close. I ended up using iron on velcro to keep them shut. I specifically got a one-piece for days when I am riding in deep pow. I kept getting wet because the pockets would get full of snow that would melt through. I also think the texture of the suit is problematic. I own the black (maybe the copper is different). It's slightly rough and when the snow is really coming down, it sticks to the fabric. As you sit on the lift, you get caked with snow. When I tried to wipe it off, it wouldn't all come off. As the day goes on, more and more snow builds up in places like where the butt pockets velcro shut. One time, I went in to the lodge to eat and all the iced up spots melted and soaked through the fabric. When I went back out, I was cold and wet. I give it an adequate because on days when it isn't snowing and I don't ride for very long it works. I only have problems when it's snowing really hard and I am out for a long time... In other words, I don't know that any suit would hold up against some of the conditions I ride. Also, I bought the medium and wish I had the large. It's snug feeling when I bend over to strap my boots on. I am 5'7'' and wear size 31 pants.
does this suit fit tight? I am wondering...
does this suit fit tight? I am wondering whether or not to go with the small or xsmall. I wear a 26 jean/some 27, I'mm 5'5 and weight 120. I range from a small to xsmall top.. anyone know what I should do?
It does not fit super tight, but I would go with the small merely based on height. You don't want it to look like your walking through a flood all day long.
I am 5'7'' and wear a size 31 pants and usually wear XL top. I have a medium and wish I had the large because when I bend over to boot into my bindings, it's snugs up a bit.
Burton One-Piece Snow Suit
These suits are great! Nothing could be hotter on the cold slopes. Keeps me warm and dry. The suit allows freedom of movement and is very comfortable to wear. This is my second one, Want to stand out above the average snowboard crowd? Buy the coppertone colored one. Besides, it makes you easy to see on the mountain!

One piece suits fell out of fashion a few years back, but now they are making a comeback. If you want comfort, warmth and make a fashion statement, get one of these great suits!
Unanswered Question
what is the length of the sleeves?
what is the length of the sleeves?