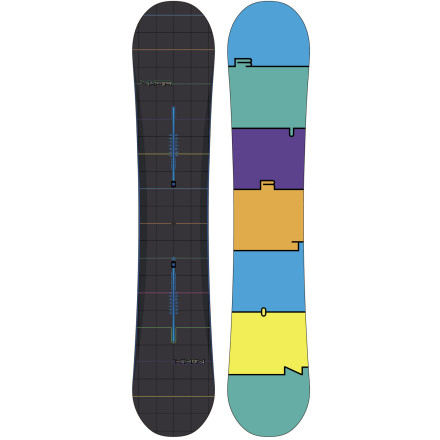 The Vapor Wide Snowboard combines all of Burton's pinnacle technologies into the ultimate lightweight cambered weapon for larger-footed all-mountain riders who demand the best. Burton's all-new UltraFly wood core makes the new version lighter, snappier, and friendlier upon landing than any of the previous incarnations.
Traditional camber profile offers the best edge control and pop out of any camber design
UltraFly wood core is Burton's lightest, strongest core ever—and gives the 2012 Vapor a more lively, organic feel than previous versions
Carbon Vaporskin strategically blends carbon and fiberglass to achieve the ideal flex with the lowest possible weight
Stainless-steel Frostbite edges extend out 0.5mm from the binding zones for improved edge control in all snow conditions, and are extremely corrosion-resistant
Slimrail sidewalls remove all excess material to reduce weight without compromising durability
Wax-infused Sintered WFO base is really, really fast—especially if you tune regularly
The Channel mounting system improves board feel and allows infinitely adjustable stance width and angles (compatible with Burton disc or EST bindings)
Can someone at backcountry weigh this bad...
Can someone at backcountry weigh this bad boy and post the weight here? Trying to find a super light board to turn into a split.
Thanks!
Best Answer
It is about 6.3 pounds.
Awesome thanks. And for comparison how much does the Custom Wide in 162 weigh? http://www.backcountry.com/burton-custom-snowboard-wide?rr=t&cmp_id=&rrType=ClickCP&rrProd=BUR4459
Haven't rode the board yet cuz it's summer, but this board is PIMP. The vapor is light. I have it set up with the diode bindings. I know it's gonna be an awesome board. Can't wait until winter!
CONS: Absolutely ZERO pop, catchy edges, not playful or forgiving at all, and it's not even light enough for you to be able to tell a difference...

PROS: It's fast. Cool graphic.
Unanswered Question
I'm a 235 lb rider would a burton vapor...
I'm a 235 lb rider would a burton vapor 162 be ideal for a rider like me I'm 6"0