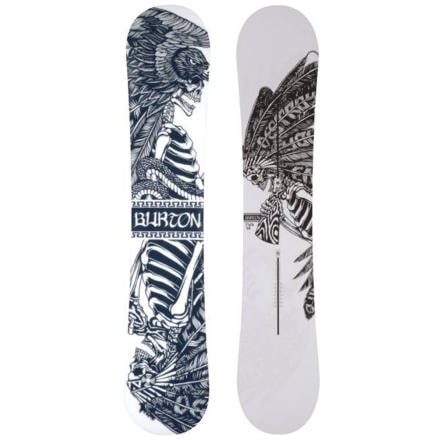 The Burton Twin Snowboard has been one of the most popular freestyle sticks for seasons now, but Burton keeps improving it. This season the Twin packs a Channel binding connection system for limitless adjustments, Pro-Tip construction for quicker spins, and a Sintered Vision Base to give you all the speed you need.
Twin shape and flex for solid freestyle performance
Channel binding connection works with EST and 3D bindings
Slightly soft flex lets you butter like you always wanted
Park Fly Core with negative profile softens lateral flex for better rail performance
Elliptical Kicks in the tip and tail for improved float and better pop
Share your thoughts
What do you think of the
Burton
Twin Snowboard - 09/10
? Share a...
Posted on
oh, and sorry for all the questions, but...
oh, and sorry for all the questions, but is this v-rocker, because I live in CT where there is a bit of ice, and I heard that the v-rocker is hard to control and stuff on ice, so should I get this, cu i wanted hero, but it's v-rocker and I am not sure about it...
Responded on
It's not V-rocker just your good ole camber
Posted on
why would I go for a smaller board if I...
why would I go for a smaller board if I want to go in the park then, and where would I find the 148, cuz its not on this site, and if its on burton they don't have sales and it would be like 100$ more, which i don't want, considering this is my first season riding, and have learned how to shred incredibly quick, after like 5 times at the mountain, i can already go off the park jump. so when would you suggest getting a second board if I have the money, and don't worry about expenses. I am only 13
Responded on
The reason for a smaller board in the park is its a lil' easier to control and more maneuverable and forgiving.

A fleet of boards is always fun to have! send it!
Posted on
i normally ride a 153, but want to get a...
i normally ride a 153, but want to get a full out board just for park. if I want this, should I get it in 154 or 151? and would exile est bindings work well with this
Responded on
If you normally ride a 153 then I'd say go for the 151. For example, I ride a 156 in the park, 158 all mountain/anything I feel like doing, and a 160-162 for just carving around groomers. Depending on your specific needs in a board and your weight you might be able to go for the 148, but from what you said, 151. Any EST binding will work on a channel board.