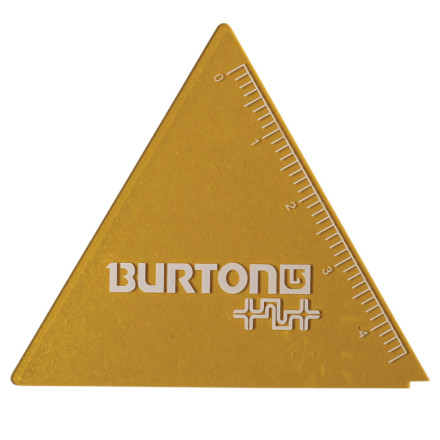 The Burton Tri-Scraper features three sides and six scraping surfaces so you'll always have a sharp edge. The big, wide platform gives you plenty of leverage for efficient scraping.
Plastic Gets Rounded Quick
Just like any plastic scraper it doesn't stay sharp for long. you can always re-sharpen it with a knife sharpener, take a table saw to it, or buy lots of them. I prefer to use a metal scraper just be careful to not gash your board when using the metal scraper.
six effective scraping edges, edge trimmer, super durable, perfect size and shape when your really going at it. What more can you ask for?
It's a scraper, don't hate
Prior to buying this I was using an automotive ice scraper and my student ID to get wax off of my base. This does a good job, but I find myself "sharpening it" with a utility knife every 3-4 uses.
This is used to scrape the excess wax off your base after you wax it.
The edges dulled out and became jagged after 1 scrape not worth it. Get a dakine scraper for an extra 1 buck.