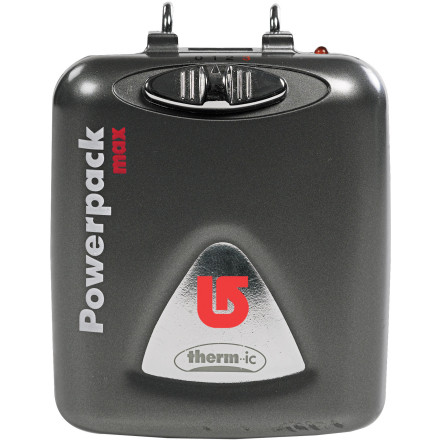 Community Images
I bought a pair of 2009 Burton Sapphire...
I bought a pair of 2009 Burton Sapphire boots for my daughter, but after ordering the Basix Term-IC battery pack, I discovered that the 'male' connector attached to the boots was too thick to fit into the 'female' connector on the battery pack. Should I be looking for an 'old style' battery pack and, if so, what's the model name/number & where can I still find a pair??
The best thing to do is to call Burton Rider's service number at (800) 881-3138. They will be able to answer you questions, then if you do in fact need to buy a different system, you can get It here.
Definitely helps you identify if your toes are numb from being cold vs boots being too tight. Nice little luxury. Batteries were pretty much done by lunchtime though =(

Also, not quite sure how the charging works. Solid red when charging, then flashing red when ready to use. I chaged them last night and plugged them in again to check and was solid red forever??? so not quite sure if about that whole thing.

All in all, I'd rather have them than not!
I have a pair of Women's Q boots (last...
I have a pair of Women's Q boots (last year)
I heard the new heaters are different from last years?

are these the new ones or the old one?
No they did not change one bit. They are the same connection from 2009 to 2010.
How long does this battery last?
How long does this battery last?
Depends on what heat setting you use and what the outside temp is.
Keeps my feet always nice and warm

The first set of batteries didnt work and they were so helpful that sent me out a new package FOC!!

Love them
I just purchased a pair of Atomic B90W...
I just purchased a pair of Atomic B90W womens ski boots, will these work with the boots?
They will not work with your ski boots. Sorry!
thermic battery pack syst
I am a skier, and adjust my boot settings frequently and ski aggressively. I lost a battery pack on the boot mounting syst. on the very first day of use. So much for $130 of expense. The replacement parts are very hard to find as the shops usually only carry hotronic replacement parts and thermic entire syst at orig purchase price w/out parts avail. I emailed thermic directly about my issues and never received an answer. Evidently they do not care about building customer loyalty. I also went back to the store where I bought them and their salesman said he has not received a response after multiple tries. I think I will go back to hotronic. I think Burton should pay attention to the service and parts policy of Thermic and reevaluate whom they wish to do business with.
Really wish I could give a better review.
Sonya
what is included with this product?.....one...
what is included with this product?.....one battery pack....two battery packs with charger.....what?
One pair of Therm-ic/Burton adapter cables, one pair of heater pack rechargeable batteries, operation manual and global chargers, (see picture I posted).
These are nice, don't get me wrong, but I think they missed the mark. They heat up but the battery doesn't last very long and just hooking them to your boot usually ends in it hanging in your pants somewhere. Definitely buy the extension thingees so you can put them in your pant or coat pocket.
Which kind of boots support this thermic...
Which kind of boots support this thermic device?
Women's Q, Supreme and Sapphire and Men's SLX. These boots are all pre-wired for the Therm-ic device but don't come with it.
Unanswered Question
I have Dalbello boots that are prewired....
I have Dalbello boots that are prewired. Will this set up work on those?
This is definitely not as good of a product as Hotronics insoles setup. While the idea is great to have the build-in wiring on a boot and not have to cut the inner liner to pass the wire through, having the heat on top of the toes does not provide the same amount of comfort as Hotronics' insoles. The top toe area in the boot does not come in contact with the toes while riding and there is not enough heat generated to even feel it. The battery on/off switch slides around while riding and gets turned off on its own. Clip does not hold well either. I will just have to retro fit my old Hotronics into the new boots.
I like the Thermics for Burton. I also have boots with Hotronics, I think the heat is a little mote evenly distributed. I might get a powerstrap for the Thermics, as I finished riding with a battery pack floating around inside my pant cuffs! Be careful if you leave your packs attached to the boots in your locker or whatever, cause they can get turned in and discharged by accidently pushing the on switch. Hey, if they work for me at Whiteface in the Adirondacks, they are awesome!
There's no indication what this product...
There's no indication what this product consists of. My I assume there are two battery packs included, wiring to attach to boots, and a charger that will recharge them simultaneously? Will this work on any brand of boot prewired with Therm-ic insoles, or only Burton boots? Thanks for your help!
Best Answer
You get two batt. packs, charger, and a short adapter cable. I believe they are specific for Burton, as the regular Thermics won't mate with the Burton boots. They do work great with my Burton Sapphire boots.
My daughter has burton snowboarding boots,...
My daughter has burton snowboarding boots, how do i know if it is compatible with the thermic battery pack?It has the strings to tighten the boot, and i do not think it has a built in heater...how would i know?
The Burton boots that are pre-wired (or pre-linered if you prefer) have a little connector that sticks up at the tougue that says "Therm-ic" on it. You plug this into the battery packs to heat them up. Not sure if this list is all inclusive but I'm pretty sure these are the boot models that have it: SLX, Sapphire, Q and Supreme. Most any boot can be made to have this feature through the purchase of Therm-ic's line of Thermicsole footbeds. Backcountry.com does not carry them...but you can find them at alpineaccessories.com
Where do you place the battery pack once...
Where do you place the battery pack once it is plugged in?
Those two things you see sticking up in the picture are little metal clips. Typically you place them over the top of the tongue of the boot in front of the laces...then pull the powder skirt of your pants down over them. You can also purchase longer wires (extensions) that allow you to place them in pockets in your pants, on a belt, velcro'd to your leg...whatever you want. You can also use any of the Therm-ic brand battery packs instead of this Burton branded version of them. The top model from Therm-ic has a wireless remote control that you can wear around your neck with your ski pass, stick it in your pocket...wherever. You still mount the battery pack on the boot but you can control it from the remote without having to bend down to your boot, or raise up your pant, etc. It is a Lithium Ion based battery pack and is called the Liionpack. The remote is called the ThermiControl.