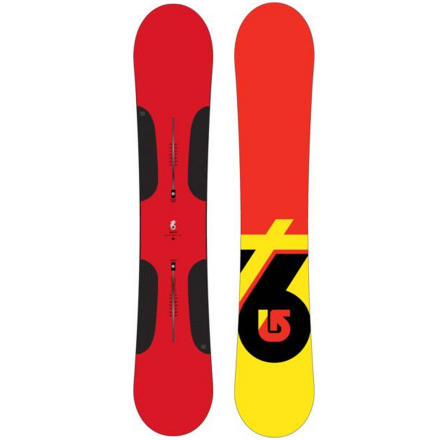 As a 40 something newbie boarder, I was a little hesitate to purchase the B T6 as recommended by the local pro. Not the best board to learn on, but once you have the basics, it ROCKS! I have had my T6 for 3 seasons now with no defects, peeling letters, etc. Take good care of your equipment and it will take good care of you. Thanks Burton for a great ride.

JV
Barrington, IL
The board works really well, holds a tight line and no problem on groomers or through the trees. Little disappointed with the construction though. The black plastic that covers the dampeners seems to come off after two or three runs, not sure if this is just my experience or a general trend. If you do not mind your board looking like it is falling apart after one or two runs..then this is a great board.
my uncle has this board and he loves it. stable, tight turns and sweet speed. the only thing he doesnt like about it is that its a lil' stiff but that what you get for an all moutain board. lol. not as much pop as he would like either but then again, its a MOUTAIN board. goes nicely with the old p1.1 speed zone binders.
I bought a T6 from Backcountry and was totally in love with it, at first. It is stiff, light, carves like its on rails, but it didn't last.

This is my second season on it and its falling apart. My edge is delam'ing from the sidewall and the pads that are under the bindings are coming off the top sheet. I asked Burton about it and they said it is out of warranty. At the end of the day, I was able to get the pads fix and Adam at Lombardi Sports here in San Francisco worked so super duper magic on my edge, but for $800.00 I expect a board to last.
I have a T6 in 164cm. This board really carves some tight lines in the moguls and is stiff enough to rip some very fast lines with awesome stability. It's also noticeably easy to ride flat on the flats. Unfortunately one of the letters on the bottom is delaminating. One of the combined letters "to" in Burton are no longer bonded to the substrate. When you press on them you can see air moving underneath and you can also feel the edge of the letters standing proud of the running surface. The letter drags now when you ride it so it's just a matter of time before it peels off completely. The board will then be worthless and irreparable.
This was a Christmas gift and I contacted Burton just after the 2nd Christmas in Jan10; so this is a two year old board. They indicated they have a twelve month warranty. I reminded them that it's a snowboard not a pair of socks and I expect it to last a little longer. I think $400 per year is a little high a price to pay. No offer to repair it, no offer to discount another board, no nothing, nada, don't let the door hit you…. It's not like it's a car and I failed to change the oil.
Thanks for standing behind your product Burton, lot of other very fine products out there with standard mounting.
I'm 6'4" 260lbs is that to much for the...
I'm 6'4" 260lbs is that to much for the t6?
Best Answer
No way... you'll be fine. The T6 is wicked, wicked powerful!!! That board holds and edge like no other! You'll be stoked. Its got a deep radial sidecut built on a directional shape. Even though it cuts hard and deep into turns, its still has some forgiveness with the smooth ride panels underfoot to absorbs the snows inconsistencies. All that combined with the fastest wax infused base, ultralight alumafly core that responds on a dime, swing weighted on the tip and tail so you can spin your double corks with ease (haha), and built in infinite ride so that thing won't get all mushed out after a couple weeks.

I would go with the 162, though (assume you already knew that)

Good choice!