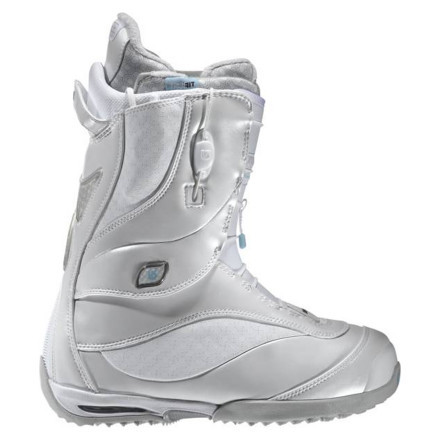 I am an advanced rider and tried quite a few boots before I found one as stiff as the supreme. I did end up going for a size 6, when my normal shoe size is 7-7.5. I found the lacing easy, and overall am happy with this boot. Still get a little slippage in the heel, but better than any other boot I had tried.
I LOVE these boots. I have put in 60 days this season so far...and they are holding up perfectly. I downsized one size from my normal shoe size because I hike and ride A LOT. They haven't overpacked, and have still been comfy from day 1.

The heat mold tech is just awesome, they fit my foot and ankle area perfectly. I used to always need superfeet, but these have great support.

It seems to me that if people have issues with the lacing system, it's because they bought too large of a boot to begin with. When you downsize a bit, you don't have to over tighten as much. But maybe I just got lucky.

I recommend these for serious boarders.
I sincerely hope that Burton has improved this model from last years nightmare. The speed zone lacing system they use is pure junk. This lacing system has busted 3 times within months of each other. What's worse is you can't fix it yourself without some "special tool" that doesn't seem to be available to us consumers. I'm getting to the point where I really feel Burton owes me for 3 days on the mountain for this inconvenience.

On the plus side I do love the heat-moldable liner. However dealing with this issue and getting it so it fits just right also costs money.

I threw down a huge chunk of change for these boots and am extremely disappointed. I hate to write such a negative review concerning a Burton product but I would look elsewhere.
I just rode a pair of Burton supreme's(last...
I just rode a pair of Burton supreme's(last years model, great price). The boot really cut into my left calf muscle. I am an advanced rider who wanted a stiffer boot. My right leg was fine. Will the boots relax if I ride them a litte more or should I return them? They fit everywhere else, anybody have any suggestions or advice??
Have you heat molded them, yet?

The Supremes have a flexible cuff on the back to expand for different calf thickness'.

What you might also want to check is your binding. Are you riding a men's binding with a taller high back? What could be happening is your high back is digging into your calf causing some pain. You should always turn your high back to run as parallel to your edge as possible to rid that bite. Maybe that will help?

I would first try that and also take it to a local Boot specialty dealer and they can help fit them for you.

It probably an easy fix if its only one calf... The Supreme's are the creme of the crop!
Are these boots really worth about $400?...
Are these boots really worth about $400? I mean, my other boots were $250 and they were really great!
In my humble opinion Burten charges a bit to much it's stuff. The quality is not always where it should be but they get buy on brand name and return policy's. Big machinery need lots of oil I guess.

When it comes to the supreme, part of the cost is the prefitted heatable sole you can attach a battery pack to to get a little more warmth to those popstickle toes.

If you're not bothered by cold feet, don't ride 80+ days, don't have the budget or are happy with lower cost boots I don't really see the point in shelling out the extra $150 for a pair of Burton Supreme - however top of the line they might be.