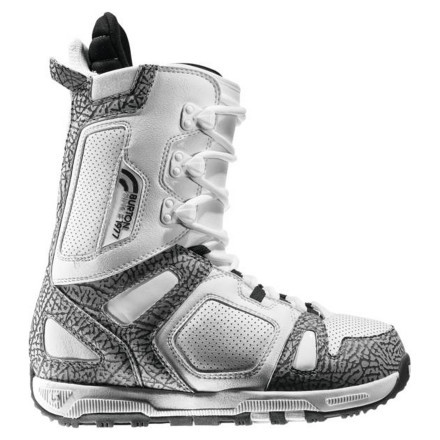 i got these boots last year and really like them. i wear a 13 or 14 shoe and i went with a 14 boot. it fits me just right. i would say if you are in between sizes, go up.
Before buying these boots I read the reviews in this site.
Last week I used them in Argentina (Chapelco)and they were very comfortable and warm even during the coldest days.
I recommend them!
I bought these boots last year and they are by far the most comfortable boots I have ever put on. They are really warm even during the coldest days on the mountain. They stayed tied throughout your session and never loosen up during riding. I used these boots about 15-20 times last year after Christmas and they still look and feel brand new. I would recommend these boots to anyone!
these boots are very warm and really comfortable. they have pretty good flex for riding in the park and are still strong enough to give you enough support. they stay tied tight and are really durable. i use mine all the time and never have problems. they haven't fallen apart yet like some other pairs of boots i have had either. these boots are awesome. i ordered mine of whiskymilitia and got a great deal on them.
Okay to be frank, these boots are great. I don't own a collection of boots so my judging is against the two other pair I do own, however, these are the best so far. These boots are very comfortable. I own some DC's with the boa system but after and hour or two of riding, I always feel like my toes are going to fall off from the cold. I have taken these boots out about 5 times now and can tell you that my feet have stayed warm and snug the whole night. The shoe, I mean boot, has great flex. I've noticed an increase in balance when landing. Definately more control of your foot and leg. These are a great buy for anyone. Try them out, if you don't like them, Dogfunk will understand.
well first off they look real nice. i love the traditional lacing too. It may be harder than if they had the quick lacing system but i love the feel of lacing these up. feels similar to a hockey skate. anyways, these things kill it on the mountain, not just park although they are park based they do decent on the mountain. they are a little more flexible, considering they are a park boot. the only con i have is that i get cold toes sometimes, which is a downer because if that didn't happen this would be a five star review. but as always, dont read this review think they're amazing and order em right away. go to a store and, no joke, try on every single boot in the store because everyones foot is different and everyone has specific preferences. all in all, its a great boot. enjoy. peace.
I have these boots and they are so comfortable and flexible for all your freestyle needs! Highly recommend! Great heel hold so u can shred with no worries