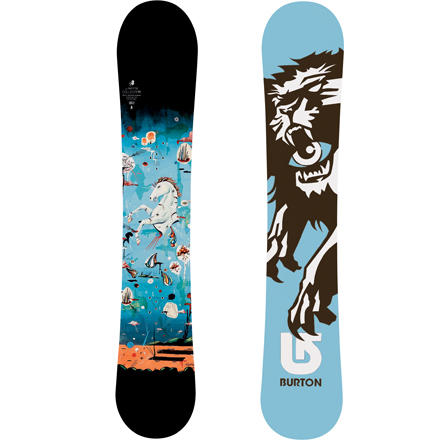 What do you think about this product?
Have questions about this product?
I purchased this board at a snowboard shop recently. It is definetly worth your money! The Superfly II core is amazing at the half pipe and the park. Unfortunately, I wished this board was also compatbile for M/L bindings. But in all the look is good, the feel is excellent and the weight is lighter than most boards that Burton makes.
The White Collection Board
SICK!!!! I haven't been on a board in about 2 years before this season. I was in College at a school away from any decent slopes and got out of the loop. When I started back at the beginning of the season i had to ride a rental (P.O.S. Dynastar Definitive TERRIBLE!!!) worst session I ever rode. When I first got the board I had to ride it that night. The reduced spin weight was no joke. 540's were comin out like the old days, just like riding my bike!!! If your lookin at this board, look no farther get it NOW, you wont regret it.
i have last years and its the best board i have ever rode, not to mention its like 10 ounces lighter than anything else burton makes