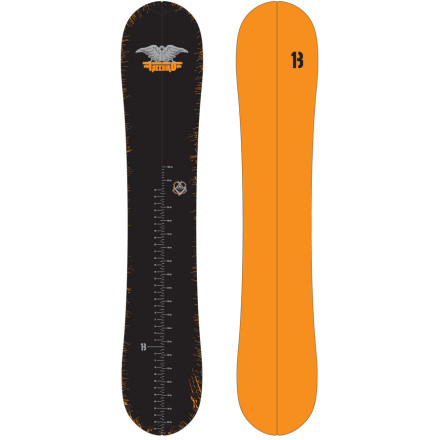 Description
Avoid humanity and get face shots.
Whether you're setting out an epic dawn patrol in the backcountry or venturing out of the resort to get some goods otherwise inaccessible from the chairlift, the Burton Freebird Split Snowboard opens up a world of fresh terrain never thought possible. The S-Rocker camber profile boosts float without compromising stability in varied conditions, and the Infinite Ride technology ensures season after season of 'best-runs-ever'.
S-Rocker—Burton's powder-specific rocker design features a rockered nose for insane float and compressed camber from the front binding back for control in variable conditions
Side Effects lengthen the surface area of the contact points at the nose and tail to increase edge hold and deep-snow planing power
Directional shape with 7mm of taper for float and control—hey, no powder leg!
Scratch the surface—topsheet features distressed graphics with underlying color that becomes exposed when you scratch it
Yardstick printed on topsheet for easy snow-pit measuring
10:45 sidewalls for bomber impact protection
Pro-Tip technology tapers the tip and tail for reduced weight and easier spins
Universal split interface, skins, and crampons sold separately
If you read the rest of the page you will see that i was hesitant to buy this but wow THis is a super awesome split...Top notch
Sad to say, this board is a huge disappointment, I am 6,1 and 88 kg and it just feels too short. You don,t seem to be able to get the rear binding far enough back to create enough lift. All the euro models i have seen are very poorly made and the tip clips just keep popping open even when boarding in semi hard snow, the two halves do not fit neatly increasing the pressure on both the bindings and the clips. After two tours, 6 hours of climbing and and 2 hours of decent the top sheet separated from the base and it started delaminating along the edges. Its too soft at the tip and stalls rather than riding above or punching through crud. Very tempted to go back to my 6 year old Voile. Burton have replaced it ( 2 days ago) but the new board is as badly made. We will see...
Can someone tell me if there is a specific...
Can someone tell me if there is a specific binding that is compatible with this board?

thx
what bindings should you put on this board?...
what bindings should you put on this board? I am thinking about spark R&Ds or split 30s but they are muchos expensive. Is there a way to put burton ICS bindings on the volie slides?
Spark R&D makes solid bindings
Best Answer
go sparks, the negative angle of the highback and newly used burton ratchets make them shine. The dough you save can goto some crampons and ice axe, happy shredding!
I dont think there is anyway to put burton ics bindings the voile plates. It has to be the four hole pattern.
Super light, amazing profile, This is a winner
As of right now, I absolutely love this board. I bought it late last season, and I have only ridden in corn, but I can tell it's a winner. I've done a couple of custom mods to improve lateral stiffness, and this thing is amazing. I also custom cut some G3 Alpinist skins with a custom connector for the tail, and it made for a super light setup skinning up the hill. I highly recommend this board.
Does the board have tip/tail clips and...
Does the board have tip/tail clips and chinese hooks, because the voile kit you guys are selling does not apear to have them.
Hey Lee, yes this board comes from the factory with the tip/tail and yin-yang hooks installed... you are right that the Voile "universal splitboard interface" kit doesn't come with them... all factory splitboards will come with these already installed...
Does ths board come driled for the volle...
Does ths board come driled for the volle system?
Yes, Freebird does come ready for the Voile kit.