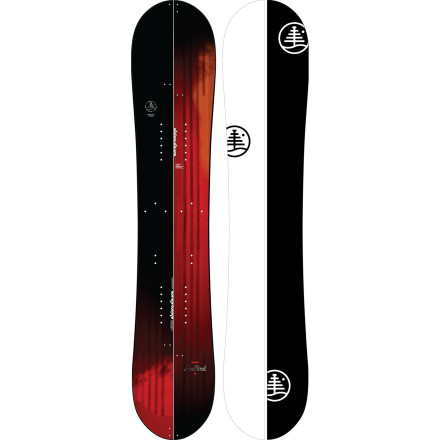 Videos
If you're reading this, you've figured out that cutting the cord and leaving the resort behind is a surefire way to get the best turns you've ever imagined. In which case, you probably know about the Burton Family Freebird Splitboard. It takes the experience gleaned from nearly two decades of splitboard experimentation to deliver a lightweight, insanely responsive pow-pillaging ripstick. It's built on Burton's S Rocker profile, which turns it into a directional freeride monster, plus it's ideal for the trip back up. When the resort boundaries look more like an invitation to awesomeness, the Freebird will take you there and back, no questions asked.
The Freebird runs on a refined version of Burton's S-Rocker profile, which blends a rockered nose with powerful camber from the front binding to the tail. The modest 7mm taper works in conjunction with this shape to yield tons of float on deep days, without sacrificing powerful turns. When it times to skin back up, the cambered tail provides tons of grip, while the rockered nose makes breaking trail a piece of cake.
The Freebird is built for speed, so it only makes sense that it uses a Sintered WFO base. Not only is it durable, but it holds a ton of wax to keep you speeding around the hill. The Pro Tip tip and tail reduce weight for faster spins and efficient skinning. The Superfuly II core provides a controlled flex and keeps weight to a minimum. Infinite ride ensures that your board feels broken-in right out of the box, and stays that way for the life of the board.
S Rocker (camber from front binding through tail, rockered nose)
Directional shape
Directional tapered sidecut
Super Fly II Core with Dualzone EGD
Sintered WFO base
Standard splitboard hardware interface
Skins, bindings, and clips sold separately
Good so far!
Familiarity:

I've used it several times
I've had no...major issues with this board. It rides great with the S-Rocker shape. No submarine issues thus far, and I've hit the deep!

I have the 158. I'm 5'7'', 170 lbs. Rides great through the fresh. I can't comment how it does on groomer type snow, but that's a good thing, right?



I have had one issue with the board. The measurements between the binding holes. The standard distance width is 3 3/8". Mine measures 3 1/4". This has caused some major frustration mounting Voile and Karakoram interfaces. My Freebird is a couple of years old now and perhaps they have worked this out, but I would measure before buying one again (or any board for that matter). This is why the four stars instead of five.



I bought my board late season, 40% off. It seems theres always plenty left over at the end of the season. I suggest you wait and get a good deal!
8 lbs 6 oz without bindings,
Familiarity:

I've put it through the wringer
got another one, thought id weigh it.



7 lbs 5 oz no hadware

(two different freebirds 2012)



this is heavier than most boards on the backcountry mag review 2014(6 lbs 10 oz seemed to be av for this size) , but I don't buy their weights/not convinced they weighed em., feels lighter than most.

2nd one had hairline cracks on topsheet day 10. thus the 4 star.

still rips for all conditions.
ripper
Familiarity:

I've put it through the wringer
review is for a 158 cm

I got 3 seasons bout 50 days/ year. review is for a earlier version that is same.

3770 grams w volie pucks and sparks lt mount (aka no bindings)

and probably 50 gram loss of ptex (season 3)



this board is light, quick turn, edges are tough (mine have been tested-still perfect I am light though), nose and tail are thinned (I did hit a rock and did delam nose and tweak core, it was a 15mph to a stop-not sure what would have hapend to a no thinned nose-worth it for the weight savings anyway, epoxy and clamps, still riding)



board is sensitive to where you mount the bindings, sweet spot is small.

I weigh 145-board is perfect for all but the lightest and deepest days.



the top sheet is slick and sheds snow-

It skins great. I got no complaints and would gladly get another-super solid

you cant go wrong!



two request-

burton are you listening?

1. make ptex black plz-easier repairs (backcountry is different than resorts damage per mile wise)

2. white top sheets plz (less snow melting/refreezing/weight)
Can any one know this boards weight in a...
Can any one know this boards weight in a 158?
I believe its roughly 3600g.
How is riding switch with this board in...
How is riding switch with this board in powder?... Possible at all?
Guess it depends on how skilled you are. It would certainly be difficult, seeing how it is directional, tapered, and has a set back stance. You'd want something with a "twin" shape if you plan to ride switch frequently.
Burton Family Tree Freebird Splitboard