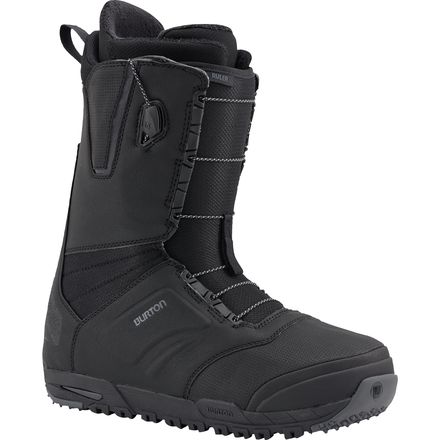 Detail Images
Description
One boot to rule them all.
Designed with the idea that one boot should effortlessly transition from fresh powder in the morning to park kickers in the afternoon, the Burton Men's Ruler Snowboard Boot reins in incredible versatility and iconic performance with its cushioned comfort and responsive flex. As always, Burton outfitted these legendary boots with their Shrinkage Footprint Tech, making your boot's footprint one size smaller.
Loaded with Burton's Speed Zone lacing, the Ruler allows you to independently tighten the upper and lower zones to your specific tastes. Tighten both for the utmost in powerful precision or keep the upper a bit looser for a more skate-like feel. Either way, it's totally up to you, which is exactly what Burton intended. Both lace handles conveniently tuck into their own side slots for convenient storing.
Warmer than most boots on the market, Burton integrated synthetic insulation into the boot's Imprint 2 liner. 3M insulation traps fiery heat, preventing frigid temperatures from freezing your feet. This liner is fully thermo-moldable, allowing you to customize the fit straight from the box or mold them as you ride throughout the season. Additionally, you'll find nice additions, such as Man Fur lining, as well as a Lock-Up Cuff for extra heel hold.
New for this year, the Ruler features two options for the sole. Both the Black and Gray/Burgundy colorways feature a DynoGrip sole with reinforced rubber along the toe and heel. This is a great choice if you regularly hike out-of-bounds or boot-pack for long distances, as the reinforced rubber stands up to regular use and abuse from hiking. Offering a low-profile, skate-like alternative, the Black/Multi colorway features an EST-optimized sole for better board feel and control underfoot. Note that both models feature B3 Gel padding in the heel to dissipate impacts and harsh landings.
Speed Zone lacing
Shrinkage Footprint Reduction
Imprint 2 liner with 3M insulation
DynoGrip sole with rubber toe, heel (Black, Gray/Burgundy)
Low-profile, EST-optimized sole (Black/Multi)
B3 Gel in heel (all colorways)
Sleeping Bag Reflective Foil