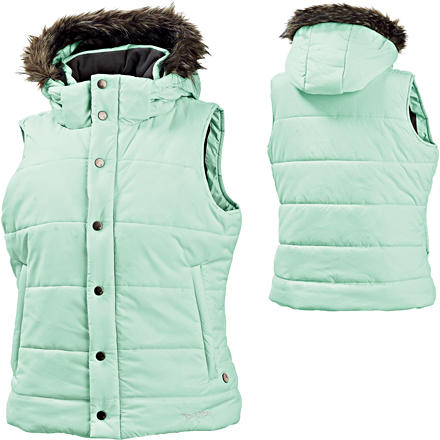 I have this vest and I wear it everywhere. Nice and warm!
This vest is very pretty, and it is super warm without being too bulky. I love that the hood is detachable, and it has great little features like a key clip in the left pocket. I love it!
Great vest, but I found it ran a bit larger than I expected. I'm 5'5'', 125lbs. and got the medium, but wish I had gotten the small. Still love it though - kept me warm all winter!
Very good quality and construction! This vest is a must. I found that Burton clothing runs a little large so consider ordering one size down.
Will you be manufacturing this product in...
Will you be manufacturing this product in black?
it may have come in black but this vest came out last year and has since sold out. you could check out this page:http://www.backcountry.com/store/group/100000120/Womens-Vests.htmlor you could wait for a couple more weeks. i know burton will have a new vest similar to this that will likely come in black.
Not a true fit. Order a size smaller. Great vest though
Love this vest, it is beautiful, however way too big.
Burton have a tendancy to run a little large.... I should have known better!! Unfortunately because it is so big, it doesn't keep me as warm. I highly recommend knowing your measurements when ordering.
I bought 2 of these in a size medium, I also bought a Betty Rides vest in a medium and a split vest in medium. The other brands fit perfectly, could have done with a small or even extra small in the Burton however!
This is a really nice, warm vest. I like the detachable hood and the high collar- very warm, cozy and versatile. The brown color is nice too and goes with a wide variety of colors.
This vest ROCKS! It's super warm and snug. The brown has an orange interior and is normally not my style, but the more I wear it, the more I love it. I'm getting crazy compliments on it too. Go for it, it's worth it.
Though the material was of good quality but i didn't like my the color i chose.black, brown, are actually my favorite.
I was very excited to get my vest in the mail but was sadly disappointed when I opened the package. The picture online is NOT what you get. The online photo shows a brown lining on the antique ivory vest. This years vest has a bright green lining instead. I called to see if they had any with brown lining and they said "no, it must be an old photo." I returned the vest. =(
Got this for the Mrs. as a gift. She loves it. Looks great and is very warm and fits well too. thanks.
I love this vest. I have it in Ivory and am tempted to get another color. True fit...runs maybe a little large..but that's great if you are wearing a sweater under it. I've washed mine more than once and it still looks brand new! I can't complain about a thing.
Also -I love your web site..so easy to use- and your service is outstanding. None better. Everyone should order something! !
I have this vest in baby blue, ivory, faux suede, and black, i've collected them over the last 2 years we've offered them.... I love this thing, and can be seen wearing it almost every day in the winter with a long sleeve and beanie... and it is a must have for all women.