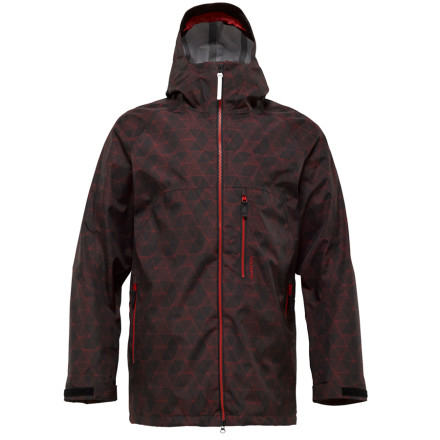 Detail Images

Community Images
Burton's 3L Porter Jacket blends street-worthy style with military-grade tech. Super-stormproof fabric and fully taped seams provide a complete seal against the elements, while the fashion-inspired Mid Fit delivers a slightly more tailored look with a bit of extra length in the body. Highly packable fabric means you can easily stash the Porter in your pack for long backcountry hikes (or keep it on hand during fall backpacking trips).
Reversibility keeps the Patrol colorway under-wraps
I catch anyone impersonating a Patroller on our Mountain, they will lose the jacket, or perhaps I'll just cut the crosses out.
Would it be wrong to buy this in the patrol...
Would it be wrong to buy this in the patrol color and fake being actual patrol... Take their lift ticket for going too fast, and give it to your broke friend? lol I dont think so! I might buy this just for that!
I would and to find roped off white heaven. Use your power for the better.
does anybody carry 3x's in outerwear ?
does anybody carry 3x's in outerwear ?
Big H We only go as big as A XXL here at Burton. However we have a Team fit that is going to give you added length in the arms, body and legs. Keep your eye out for a XXL team fit. This may do the job for you.
I am 5'10, 155lbs, got the Small, and it fits perfect. Great length, a nice fitted mid section, that still has room for layering.
It seems to be constructed real well, very minimalist but still has essentials (music spot in chest).

The one negative is, it has no wrist gaiters, and NO Pow Grip! I'm a huge fan of wrist gaiters, in order keep the snow out of the arm area. So much so that I will decide not to buy jackets if it doesn't have wrist gaiters. But, I have it now so I might keep it because I really do like the rest of the jacket. I'm having a tough time deciding...