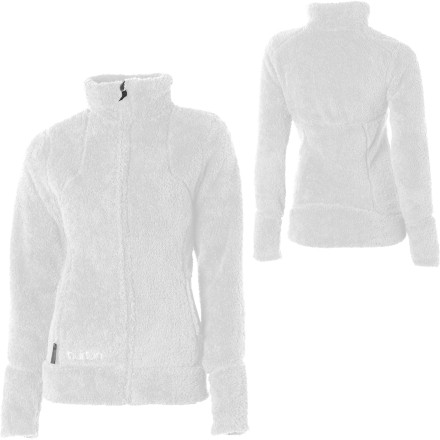 Detail Images
The Burton Women's Nova fleece is like a hollowed-out teddy bear that you killed and wore to the hill. Wear it alone in spring, and use it as an ultra warm mid-layer in the middle of winter. A microfleece chin saver is soft on your face, and the Burton Vader neck keeps cold drafts at bay.
Great fleece, won't last forever
I've had my Nova Fleece for over a year now and typically use while snowboarding as a liner under my Burton AK3 shell. Overall it's been a great jacket. It's kept me warm through some pretty cold weather(-25F windchill) but does not get too hot in warmer weather either. It also breathes well. After a lot of use over the year the fleece is starting to get matted down and noticeably thinner in certain areas and has lost some of the softness and fluffiness that it had when it was new. All in all, the Nova Fleece is a great jacket for keeping you warm while looking good, just don't expect it to stay new forever.
I love this fleece. The price is a little outrageous and I'm anxious to see how it performs this winter, but the feel and the look alone... I am in love.
I love this fleece. The price is a little outrageous and I'm anxious to see how it performs this winter, but the feel and the look alone... I am in love.
Love it! Basic fleece...good second layer because it's not too thick!
Got the Burton Nova fleece so I wouldn't have to keep wearing a tank, an overshirt, a fleece, a hoodie, and a down coat to get to the gym on cold days. The Nova fleece is so warm and soft I can just throw it on over my work-out tank.

The fit is slim, the arms are quite long, and there is a funny extra layer of cloth over the butt (but for someone with a flat booty it is actually helpful).

The only not-so-good thing about the Nova fleece is that the zipper placket is not black like the jacket, and the placket is not sewn down and can sometimes get in the way of zipping up.
I absolutely love this jacket. It is exactly what I thought it was going to be. I was surprised at how warm it is too! I haven't washed it yet, but so far so good. (The shipping only took 3 days too) I would definitely recommend this to anyone who wants a soft, warm, snuggly jacket.
IF YOU WANT TO FEEL LIKE YOU ARE IN THE MOST COMFORTABLE THING EVER.
This jacket feels like you are petting a cloud. When you put it on it feels like you are in a cloud.
I ordered this in black and didn't realize that it was so thick and fuzzy. I am 5'2" size 4-6 and this jacket was too long and snug from waist to hips. The length of the sleeves and placement of the shoulders was right for the size medium. I want to stuff the zip pockets and it would look like saddle bags if I put one thing in those containers. I sadly had to return the Burton Nova. If you like a tight body and not use the pockets then you may like this warm fuzzy bear.
This fleece has been my number one jacket this year. It's warm enough that I can wear it without layering it into the mid teen temperatures. I am so impressed with how warm it keeps me. And the fact that it's not hooded works out really well when I want to layer it with hooded jackets so I don't end up getting choked by two or three hoods. I had no problems washing it with the rest of my clothes in a warm/cold cycle and then tumble drying on low heat. It came out just as it went it, and I didn't notice any kind of shrinkage. My favorite article of winter clothing this year, for sure.
What about size? I am usually a medium...
What about size? I am usually a medium but seeing that this is a "slim" fit, should I order a large? If anyone can help me who owns one of these, I would appreciate it
I just got mine and I am wearing it now. I also usually wear a medium and it fits me perfectly! I have about an inch to spare on each side right above my hip bone. It's a wnderful jacket and I love it! Hope this helps!
The description of this jacket couldn't be more correct. It is so comfortable, soft and warm. The neck looked kind of short, but it comes up high enough to keep my whole neck warm on those infamous windy days. It makes for a great midlayer. I bought it in Capers and it is a cute olivey color, looks good with my blue shell. This jacket does run slim, especially around the hips. I can usually wear a small jacket if I don't plan on layering more than one shirt underneath, but even so it still felt a little bit tight. I ordered both a small and medium and I kept the medium and returned the small. The only draw back is that it sheds a little bit.
I got a Nova Fleece for Xmas and I was really psyched about it- it's so plush and soft and warm. But, it had a hole in the armpit, which kinda sucked. That's a quick fix though, so no worries, right? I wore the fleece for about a week straight, and when I washed it using cold water and low heat in the dryer just like the label says, I was really disappointed with what came out. I anticipated some of the fleece to clump, but the side of the jacket almost looks like it's a piece of felt rather than the shaggy fleece that it's supposed to be. Moral of the story: Don't use the dryer at all, and double check the seams for holes.
Does this jacket shed once washed? Columbia...
Does this jacket shed once washed? Columbia fleece did severely
It may pill a little bit, but the one my lady has held up well. It still stays soft and comfy for sure!