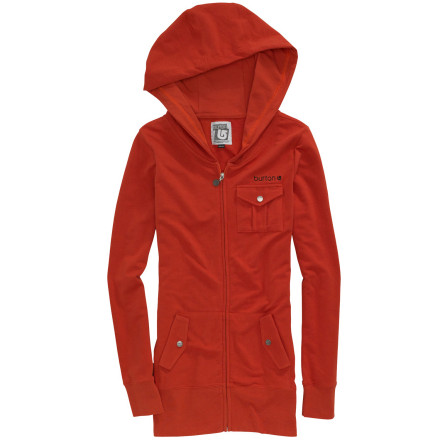 Burton's Premium Navigator Hoody will help you safely navigate your way to grandma's house, avoiding all long-toothed lupi on the way.
awesome sweatshirt, definitely mid-thigh length, and mid-weight. not super warm feeling, but it will definitely be an awesome layering piece. i got the fox hunt and the color is akin to a dark salmony-orange tint. less red, more orange shade, but in a good way. awesome!
This is a really warm sweatshirt. I ordered a medium because they were out of the small. A bit big but a solid sweatshirt. Even my mother-in-law loved mine so I bought one for her too. The quality however is just ok. it started to wear a bit quicker than I thought it would (hers and mine). and it was kind of expensive so I expect better quality.
With the exception of Burton's Sleeper Hoodie, this is my favorite jacket they make. It's nice and long and very comfortable.