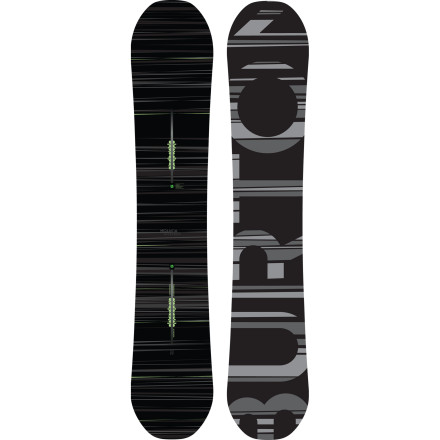 Videos
Craig Kelly was one of snowboarding's true pioneers, and his legacy of charging hard and pushing the boundaries will not soon be forgotten. To honor his memory, Burton reissued the iconic promodel with the Mystery Flying V snowboard. Burton's dedicated Craig's, its prototype facility, to him as well, so it only makes sense that the Mystery pulls out all of the stops to produce the highest tech, lightest weight ride that Burton has ever built. In other words, it makes everything else look like a popsicle stick.
The Mystery's Flying V profile puts rocker between your feet for a forgiving ride and deep snow float, and pairs it with camber under the bindings for stomped landings and powerful turns. The directional shape is close to a twin, with a half inch of setback for versatility. However, it has a twin flex, which means your switch landings and takeoffs won't suffer a bit. It employs Frostbite edges like many of Burton's other boards, except in this case, they're stainless steel so they stay sharp and rust free.
Pro Tip construction reduces the weight of the tip and tail, for faster spins and more responsive turns. The exclusive Ultrafly core is profiled for a natural flex along the whole length, and it just happens to be the lightest core construction in the industry. That works in conjunction with The Channel mounting system, which contributes to unrestricted flex, instead of causing dead spots under the bindings like traditional binding interfaces. The Methlon base material is Burton's highest-end sintered base, which holds tons of wax, holds up well to impact, and runs blindingly fast on the hill. Round it out with Infinite Ride, and you know it'll ride the same on the first day as it will throughout its entire life.
Flying V profile
Directional shape
Twin Flex
Stainless Frostbite edges
Ultrafly Core with Multizone EGD
Methlon sintered base
The Channel binding mounting system