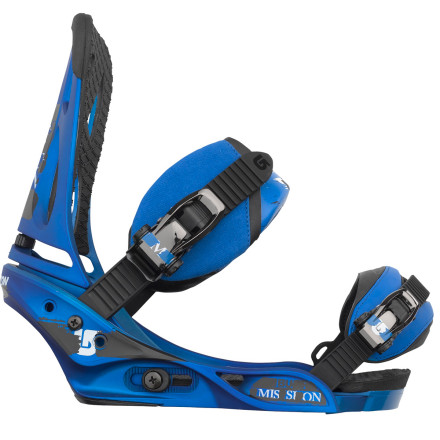 Detail Images
The Burton Mission Snowboard Binding is a household name among those who know snowboard gear, and with good reason—it consistently delivers high-end features at a working man's price. The 2012 version features more trickle-down tech than ever—like the Team Skyback and ultra-comfy Superstrap, previously found only on more expensive models like the Cartel.
FullBED baseplate padding absorbs impact from high-speed chop or harsh landings
Canted, tool-free adjustable Team Skyback II mirrors your natural leg position for less calf fatigue and improved heelside control
Superstrap ankle strap keeps your feet feeling good from first chair to last chair
Share your thoughts
What do you think of the
Burton
Mission Snowboard Binding
? Share a...
Unanswered Question
I'm a chick, but I love the look of these bindings. I also know that the response is right for me. Would it be a bad idea for me to purchase men's bindings? If yes, why?
Sick Binding! So much control
Familiarity:

I've put it through the wringer
My missions are a few years old now and i have no complaints. They are durable and awesome. I strap on the toe cap and i have so much control. I feel like the borad is part of me. Such a great binding and the original toe cap a great idea. Props to burton.
Love em
Gender:

Male

Familiarity:

I've put it through the wringer
Was looking at Cartels but for the extra $ I couldn't see any added benefit really so I went with these. Rode them all last season and highly recommend. Nice and light compared to my last set, good padding. One complaint; I got the white colorway and the glue turned yellow. DO NOT BUY THE WHITE ONES!
Just bought my son (10 yrs old, 85 lbs) a...
Just bought my son (10 yrs old, 85 lbs) a Burton Mission Smalls Flying V board (131 cm). He's wearing a size 5 burton boot now. Would this be an appropriate binding for him in a size small? I want something that will last more than 1 year, and the youth bindings seem to max out with a size 5 boot.
That is hard to say. you may want to see if you acan get a nice used pair since kids grow out of it so quickly usually the used stuff is in really good shape.
Is it men or women bindings??
Killer bindings especially for the price. Very comfortable yet still responsive. Can't go wrong with Burton.
I picked these up because they don't have Autocant and they are a pretty straight forward piece of equipment. They have comfortable straps and enough flex to go all over the mountain, which is exactly what I was looking for. They don't have as much cushion in the heel area, but that's just me being picky. I do like the fact that there is padding over the screws on this year's design. As they say, it really is a working man's binding at a workin man's price. You can't go wrong with these.
Heaven on a board.

Granted, I was upgrading from some metal Ride bindings that made my setup feel like I was riding a small whale, but these Burton bindings made all the difference.

They are flexible but keep your boot firmly in place and make no small impact on how sick your setup looks.

Would I recommend these to a friend? No. I would demand that they purchase them.
An amazing binding that doesn't break the bank!
Burton Mission Snowboard Binding: Best binding I've ever ridden. Perfect combo of tight secure straps, yet cushy and comfortable. The response is great, while your feet aren't writhing in pain. I love how the highbacks are angled in to accommodate a natural riding stance. And as always, the Burton toe straps and ratcheting system can't be beat. An amazing binding that doesn't break the bank!
I wear a size 10 Thirtytwo 86 boot. Would...
I wear a size 10 Thirtytwo 86 boot. Would it be better to grab these in a medium or large?
I'm 5'3 108 pounds, are these bindings too...
I'm 5'3 108 pounds, are these bindings too stiff for me in the park?
Does this come with all the screw, washers,...
Does this come with all the screw, washers, etc. needed to attach it to a board?
this will come with a nice packet of plates and hardware.
Yep every thing you need to mount and shred.
I may have had a lemon, but...
One day at Heavenly and I'm ready to pack these up and take 'em back. The third star I'm giving these is for the fact that they made it a full ride day. I've read great reviews so I expected better, which is why I'm qualifying this with the fact that I may have purchased a pair of lemons.

I've got these mounted to an '11-'12 Burton Custom Flying V 58 Wide. I ride an 11.5 Vans Aura boot. The toe strap ratchets became extraordinarily loose and I couldn't completely tighten the toe. Half way through the day, the right toe strap came undone.

The ride felt good as long as I was strapped.

I'm looking at the Malavita or the Cartel next.
i just used these at killington. they are responsive and tight but also forgiving. i recovered a few times when i thought i would have really ate it. i have the restricted version so they have the re-flex system, the disc that flexes with your board. the base is super soft. not once did i get those lightning bolts of pain shooting up my legs from stomping a sketchy landing. anyone who has knows what im talking about. the new cap strap really keeps you in place and the top strap really lets you control the toe side turns. i love these bindings. i have these on my all mountain board and a pair of customs on my jibbing board
looking at getting these bindings, i wear...
looking at getting these bindings, i wear van boots 10.5 bit bulky. should i get these in M or L then? thanks
Simple and to the point, these puppies get the job done. I have had a couple pair of these and on both pair I have had to get the base-plate replaced, it was under warranty so not a big deal just glad I had backups when they were gone for that bit. Also replaced a toe strap a time or two, not the cap just the plastic, also not a big deal. Both pair are 3 years old now and still can ride.
Unanswered Question
Is dogfunk getting the Mission binding...
Is dogfunk getting the Mission binding that has the re:flex baseplate and canted footbed??
Unanswered Question
when you adjust the forward lean on the...
when you adjust the forward lean on the living hinge system, is it supposed to stretch the high back or is the notch supposed to come through the hole in the bottom of the high back and rest on the heel cup?
Burton Mission Bindings
Familiarity:

I've put it through the wringer
I've been real happy with the Burton Mission Bindings. I use these on my Everyday Board and the Cartel on My Powder Board. The Mission is stiff but a little more playful and forgiving. The Cartel is perfect for the Hard Charging and less playing around. The Mission is great Binding for the Money.