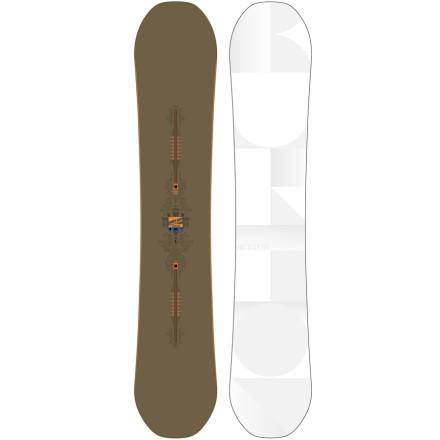 Community Images
Since the space shuttle was retired, NASA has been feverishly searching for its replacement. Say hello to the Burton Method Snowboard. It wouldn't be fair to say that the technology used in developing the Method compares to the space shuttle. The space shuttle is old. The Method is the next level. Burton blends titanium, carbon fiber, and S2 carbon composite to create a board so light and rideable that it will revolutionize the industry. You can try to take this one into space ... just make sure the landing isn't flat.
Flying V hybrid camber/rocker puts camber underneath the bindings and rocker at the tip, center, and tail of the board for float in powder, edge control, and plenty of pop
Ultrameth construction involves every aspect of the board to create the most lightweight, high-performance snowboard yet
Multizone EGD places the wood perpendicular under the your feet in four different zones to optimize edge control
The Channel allows you to micro-adjust your stance over a greater length and an infinite range
Burton Method Snowboard - the Lightest Board on the Market
Win Snowboards is proud to introduce the new 2012 Burton Method Snowboard, the super light camber snowboard in the market, carrying Burton's major accomplishment encompassing the construction, functionally and high precision. Snowboarding has always been about creative thinking and freedom of expression. Step out of bounds and seek adventure on the 2012 Burton Method Snowboard.

The Burton Method gives you instant accessibility to any hill, face, or peak you want without sacrificing performance. It still gives you plenty of float, flow and control.

Take part with Win Snowboards Win a 2012 Burton Method Snowboard. Stay involved!

http://www.winsnowboards.com/sweeps.html

http://www.facebook.com/pages/Win-Snowboards/351514984904441
Looks like you are craving for a futuristic designed Snowboard, well you've come to the right page. When you're buying a board from an "experimental division," you'd better believe you're paying top dollar. The good people at Lib Tech may have decided to make a hyper-eco-friendly board. Its magnesium oxide strand base uses 30 percent less petroleum products but is still twice as strong as fiberglass. The top sheet is made from castor beans and is still the toughest thing going while the self-healing bipolymer sidewalls are super impact resistant, glow in the dark and offer healing properties.

And Lib Tech's Vectran Torsion Rods are 25 percent lighter than carbon which makes the material one of the lightest snowboards on Earth.

Get over it and we are inviting you to Win Snowboards Online Sweeps which you can have a chance to win one of the top of the line snowboards on Earth. Stay involved! Enter NOW.
I'm colorblind. What are the colors of...
I'm colorblind. What are the colors of this board?
top: brown; bottom: white/off white combo
Is this a factor second board
Is this a factor second board
Best Answer
No? Backcountry doesn't sell factory seconds. It's brand new, top quality stuff, on sale for 30% off.
has anyone demo'd this board? I haven't...
has anyone demo'd this board? I haven't seen any reviews on this model all year and I can't demo before I buy. anyone? anyone have experience with this board?
Yeah, demo-ed 2 weeks ago. Very light on your feet with Diode bindings. Very flexible, poppy, easy to ride over lumpy conditions. Awsome board!
will it work on the moon?
will it work on the moon?
Most likely, just bought one =]

ill try it
and i just bought one for all of south korea suck my balls