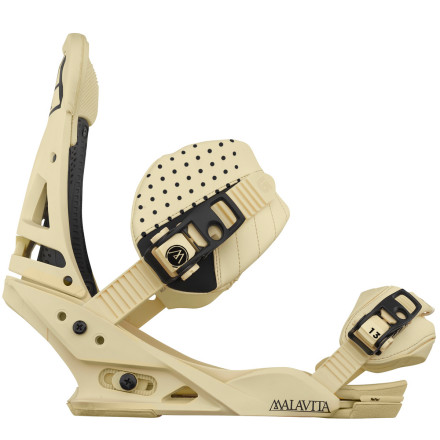 Detail Images
Description
The board feel and cushioning you need to take your freestyle game to the next level.
The Malavita Re:Flex Snowboard Binding has established itself as Burton's new all-around freestyle badass, and now it's back with some serious upgrades. The new Re:Flex baseplate and hinged disc design let you experience your snowboard's flex like never before, while the AutoCANT cushioning system naturally aligns your lower body for reduced knee strain and better control, no matter how you prefer to set up your stance.
Re:Flex hinged disc and profiled baseplate dramatically improve flex and board feel (compatible with all mounting systems from all board companies)
All-new Heel Hammock rubberized heelcups let you run your straps a little looser for jib-friendly mobility without losing turning response
Dual-density AutoCANT EVA padding settles your feet into an ergonomically-correct position for easier lateral movements and reduced knee strain, regardless of stance width or angles
B3 Gel inserts absorb shock from rutted landings or choppy run-ins
Canted, tool-free adjustable Living Hinge Zero-Lean highbacks mirror your natural leg position for better heelside control and reduced calf bite
Share your thoughts
What do you think of the
Burton
Malavita Re:Flex Snowboard Binding
? Share a...
Will these bindings work on my forum...
Will these bindings work on my forum youngblood snowboard or what would you suggest??
these bindings will fit your board.
I wear a size 9 burton invader boot and I...
I wear a size 9 burton invader boot and I was wondering if the medium would be a good fit without having to ratchet it all the way down?
Mediums shoudl be a good fit.
can anyone compare these to this years...
can anyone compare these to this years re:flex cartels?
Cartels are high end and come with all of the features burton offers. these are not bad just not cartels.
I picked up a pair of the sulfurs this season to replace my '09 Cartels and have been blown away since the first time I rode them. The flex is perfect and the re:flex technology adds so much more board feel. It really does unlock the flex. BUY THESE YOU WON'T BE DISAPPOINTED!
In order to get the best out of the grip,...
In order to get the best out of the grip, should I wear my pants over the bindings so the rubber patch would be touching my boots directly?
bindings are designed to hold your boots in place.
favorite binding ever, but....
these were some of the most comfortable bindings i have used in 20 years of snowboarding. super comfortable and light weight. not to stiff and not to flexy. unfortunately one side of the heel hammock blew out after 22 times riding them. its really too bad because they felt amazing.
First off I usually am not one to jump onto some new Burton gimmick but after seeing this first hand and really diving into some new things these bindings could do, I was sold! The best feature is the Re Flex or the hinged binding plate; this really allows you to enjoy the new flex patterns of boards across any platform might it be 4 hole 3 hole or 2 hole channel. The Malivita's are insanely comfortable and forgiving with the gel under foot. Matched with the new AutoCanting really makes those flat landings a little less flat. Buy these if you love your Union's but are wanting a little more forgiving ride as far as dampening and comfort.

Welcome to the Snowboard Binding Revolution of the Future!
These bindings are great, just a little to playful for me.
trying to decide between the cartel and...
trying to decide between the cartel and the malavita for all-mountain freestyle. any thoughts?
Best Answer
I'd get the Cartels, i tried both 2012 models and preferred the Cartels. They're more responsive, I personally don't like a flexible binding, but you could try both and send back the pair you don't like.
What a great fun binding...
I have pretty much ridden in either Burton P1 bindings or CO2's for free riding and Custom bindings for the park and jibbing pretty much since Burton started making them...So this year I thought I would give these Malavita bindings a try because I have used my old Burton Custom bindings for my jib boards until I can no longer save them...Well I bought the Malavita bindings in sulfur and they look damn sweet on my new Forum Destroyer board and the high back looks to have no forward lean:-) I have now had 3 days in them and man do I like them...a lot!!!The response is faster than I expected, the ability to tweak them just right is awesome, the foot bed is awesome, they feel great and the drop offs to flat and landing to flat seem like they feel softer. My knee doesn't seem to even be bothering me like it would normally by now so I am hoping that it was the bindings that helped this...I like these bindings enough that there will be no Christmas gifts from me to anyone this year because I am going to buy another pair in "Violet" (purple)...If you like to jib, play in the park and just basically play and have the money (or credit card) you will not go wrong with these. I will let everyone know how long it takes me to destroy them!!!The straps hold my boots comfortable and the ratchets work smooth and there really is no forward lean!!!
Set up if you needed to compare: 2012 Forum Destroyer Double Dog 156, Size 10 DC Judge Boot 2011, Large Burton Malavita Binding set at 15 front 15 back centered, and on a good day 185lbs...
Unanswered Question
ayy so i just bought the new 2012 DC Ply...
ayy so i just bought the new 2012 DC Ply 153.75. the doughnuts and coffee one. i was wondering what color of these bindings would look the best with that board, the violet or the sulfur? thanks
these bindings are amazing... they shred everything. they hold your boot, just like the kangaroo holds her young, nice and snug, but with quite a bit of flex for play. they are a one binding killer, load em up on almost anything and you are ready to shred, and they look sexy too
Whats the diff between this and the Cartel...
Whats the diff between this and the Cartel binding? Anyone tried both?
this has the superstrap, which provides a larger surface area for the pressure. plus it has the AutoCANT FullBED, with duel density EVA, which should help give cushion for those bigger jumps. this has their higher end binding rachet. This should destroy everything, including whatever you will want to do in the park.
I switched from the Cartel to the Malavita last season. Add the new grip of the Heel Hammock and you have the best park binding in the line. Zero degree lean in your high back and the support of the Superstrap makes it hard to compete with.
Trying to figure out what size to get. I got the lib tech skate banana 149 and i wear a size 9 boot. I was wondering if a small would work cause a had a M on my last board and it hung over the edge and i would get toe drag, and i also had to strap them all they way down and by the end of the season they wouldnt get tight enough....what do you think?
With a size 10 boot, what size binding do...
With a size 10 boot, what size binding do you recommend?
A large is going to be your fit.
no medium Go with smaller binding its going to be more adjustable then being at the low end of the large.
I have Salomon F20 size 10.5 boots. Will...
I have Salomon F20 size 10.5 boots. Will a Medium Malavita binding be the correct fit for that boot. I'm looking to minimise over hang?
A 10.5 will best fit with the Large binding. These binders rule your gonna love them