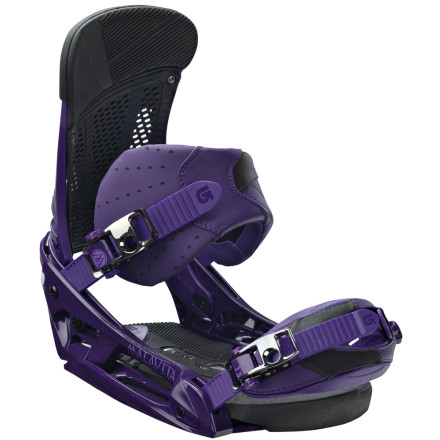 Detail Images

Community Images
Description
Tuned for serious all-mountain freestyle annihilation.
Burton built the Malavita EST Snowboard Binding for freestyle shredders who want both mobility and stability in a lightweight, cushy package. The all-new Hinge design allows the separate heelcup and baseplates to flex laterally for easier tweaks and presses, while the (also new) Heel Hammock lets you run looser straps without losing heelside response. Dual-density EVA AutoCANT footbeds and B3 gel cushioning reduce fatigue and take the bite out of flat landings.
The Hinge design uses separate pieces for the baseplate and heelcup to naturally allow more lateral flex
Heel Hammock rubberized padding in the heelcup locks your boot into place for better response without over-tightening your straps
AutoCANT dual-density EVA footbeds flex to match your stance and reduce knee strain and fatigue
B3 Gel Cushioning absorbs impact from high-speed chop or rutted-out landings
EST mounting system improves board flex and feel, allows near-infinite stance options, and rides exclusively with Burton boards featuring the Channel
Share your thoughts
What do you think of the
Burton
Malavita EST Snowboard Binding
? Share a...
Malavita EST Binding
Familiarity:

I've put it through the wringer
These bindings are top of the line. From material, buckles, and response. Very comfortable. I ride fast and they handle it fine. This is a great binding for whatever you throw at it. Highly recommended.
Burton Malavita EST Snowboard Binding.
these bindings are all that and a bag of chips, just as they are described, cushy-cumphy and super duper responsive. i'm not a big park guy, i have a tendency to chase the fresh and snapped these on my malolo for a weekend in tahoe, wow! loved em. i'm commimg of a set of c60's and will never go back, just as responsive but so much more tech and comfort, riding swich was like riding regular for me, easy-smeeshy. the only problem i had was i bought a size too large, my bad. goona rock these on a nug next year.....
Great all mountain - freestyle binding
I rode the Burton Cartels last year and loved them. These are a step up from the Cartels and are a good all mountain freestyle binding. They have a little more flex than the Cartels, which are good for the park. They are really comfortable and easy to adjust if you want more response in the powder. The heelcups on these are nice and keep your boot from sliding around to give you fast response on turns. I recommend for anyone who is into all mountain but likes to ride park occasionally too.
Good freestyle binding, works only with an EST board. Bindings are pretty light and can easily be configured any way you like. With the EST system adjustments can be made easily on the fly. Def recommended
Just got mine in the mail and they are really heavy. Other than the weight I can't really say anything bad about these bindings. They feel really comfy on my feet. I wish they had a strap protector. Also, I think I could have gone with an medium to reduce the weight, but I wear a size 10.5 boot and didn't want to risk having my straps maxed out. Can't wait to try them out on the slopes.
malvita bindings..money well spent
Money well spent. They are by far the best binding I've had.(20yrs riding) Once you get them dialed in to your liking you can't even tell they are there. Comfort level when free riding and doing tricks is on point. Burton did their homework when they made these bindings. You won't be disappointed. Take the time to dial them in to your boot size and liking at home so won't miss time riding. I used them on 2 boards a 156 custom and Jeremy Jones 154 and made me like my boards even more.
this year im getting all new gear & i need...
this year im getting all new gear & i need an experts opinion on what bindings to get, i guess to describe my style- im forsure a park junkie but i also have fun crusin the slopes with buddies who dont hit the park at our mt. i bought a new bataleon evit twin and new white forum kickers, im having trouble deciding between Burton Malavita est stone and Union Atlas glow. im kinda limited cause of color cause my boards orange and white so id like my bindings to be orange or white, so if someone who knows what theyre talking about can help make the right choice or even lead me in the direction of something more suitable thatd be mad cool, thanks
Well EST bindings are not going to work on a non EST board. Maybe check out different Burton bindings. I know there are all orange Union Force bindings, those would probably work well for you.
are these bindings mainy designed for...
are these bindings mainy designed for burtons channel boards? i read somewhere that without a channel board you wont get to see the full potential of the malavitas, im riding a t9 board and am wondering if it would be worth it?
Hi Chris,

Malavita EST Bindings can only be used on a board with the Channel.

Check out the Re:Flex Malavita. Go this route for similar board feel that you get out of the EST, but can mount on a 4 or 3 hole pattern.
Got to ride these at the US Open demo last year. After 24 years of riding i won't hesitate calling this the Best Binding on the freaking planet. The Sulfur color is so sick.
I have the Malavita bindings 2010 L. My...
I have the Malavita bindings 2010 L. My issue is that the backs of are too angled and it forces me to bend my legs considerably. Is there a comparable binding to the Malavita that doesn't have as much angle on the backs? or more flexible? My board is a 2009 Burton Custom V-Rocker. Id like to just mountain ride and these binding let me do that for about 5 minutes until they start hurting because the backs are making my half squat. Any suggestion for alternate bindings would be appreciated. Thanks!
You could look at the Rome 390 BOSS that have the adjustable cantering options.
Thanks but I don't think the Rome's will be compatible with the EST's
Best Answer
Are you sure you have properly adjusted your forward lean? I ride high end binders (c60s) but have always preferred zero forward lean. You should be able to adjust your backs to be parralell with your heel side edge: two screws loosened and rotate w two hands. Then use the dial to zero.
I haven't completely tested these as i don't have my boots yet, but i must say these bindings are awesome! The ankle strap is ridiculously comfortable and the top cap is rubberized like all hell (will for sure stay put!). I have yet to test the hinge tech but i'm sure it'll be awesome, read about in the other review! the autocant cushioning is a nice touch too, really comfy. overall i'm crazy stoked for these bindings, and if you've got the cash definitely pick these up you will not be disappointed. The whole burton team rocks these in every condition imaginable, they're bomb-proof freestyle/all mountain bindings, it doesn't get better than that!