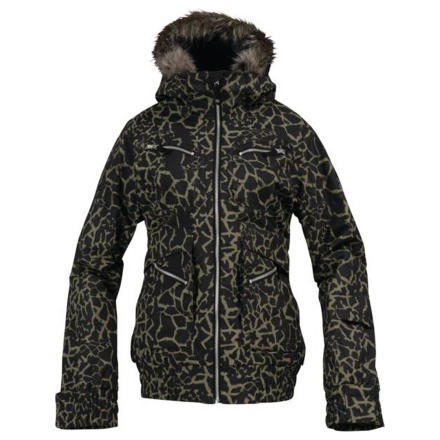 Community Images
I would actually give this jacket a 3.5 because I like this jacket alot but you need to realize it is "slim fit" meaning pretty tight in the middle for a slimming look so it's super cute but good lick getting layers under there, I'm usually a small to a medium but there was only a large left so I got it thinking it would Venice and loose for layering but no, it would have been way too small if had gotten smaller than a large, kinda wish I had gotten an xl but it's still cute and fitted, the hood is really huge though. An I love how long it is but the zippers under the armpits make it feel kind of stiff when you're wearing it. But it's cute and warm enough and pretty good quality so all in all I'm happy with it.
Unanswered Question
I'm a 34 chest and 27 waist you think a...
I'm a 34 chest and 27 waist you think a XS is ok? Just because that's the only size available in the print i want. Does it run big?
Yes it is fully removable. You don't have to worry about it bothering you at all.
I'm usually a small, but the bottom of the jacket is really tight and I could barely get it zipped at the bottom. Once I tried to unzip it, the zipper pull broke off - same as the other reviews said. I got the Hibiscus which was really cute and I love the furry hood.
Great jacket - cheap zipper
The jacket is really cute and I love the fur hood, but the first time I wore it the zipper pull broke off.. . and it won't zip down without the pull attached to the zipper. I was stuck with the zipper all the way up and had to pull the jacket off over my head! Burton was really nice about it but I would have to pay for shipping to get the zipper pull fixed by them and it would take a while. Since buying this I heard from others that the zipper was really cheap. Still cute, but very frustrating.
I love this jacket, it's precious and warm (but not too warm). Only thing-the 2nd time I wore it the slider that pulls the main zipper up fell off somewhere so now I have a makeshift slider :(
But I still rock it. 5'10" 145# size large fits perfectly with room to layer.
Hi, Im 5´7 feet... and 130 lbs. Do you think that i need a size M or an L?? Considering the size chart , I´m M.. but reading your reviews, i´m considering a size L.
Help meee, Thanks!
I tried this jacket on at the store and it looked amazing. unfortunately the zipper broke when I was trying it on so it took me and the store clerk a half hour to get it off so I didn't buy it but I still love how it looks and it seemed really warm. just the zipper quality seems pretty cheap
Great from street to snow
I have owned four coats from Burton and this is by far my favorite. It looks great as a casual street jacket as well as on the slopes. I love the fur-lined hood and the slim tailoring. My only complaint is that the bottom if the jacket has a wide elastic band that causes the jacket to ride up a bit when I'm bending to fasten my bindings. The jacket's fabric also has a nice texturing to it and zipper details which make it unique. I highly reccommend this jacket but suggest ordering a size up for comfort and layering.
jacket Burton lush is just perfect
I love this coat, but if you were at lot of layers (like I do) and you wear a helmet (like I do) and you want the hood to go over the helmet (yep, like I do)... then go for a bigger size. I am a size 2 and I bought an XL coat because of all the layers that I wear and the helmet thing.. its a good coat though. A lot of pockets and warm!! :)
if i'm pretty skinny but i usually buy...
if i'm pretty skinny but i usually buy about a medium in shirts and if i'm pretty tall with long arms should i get a medium or a large. basically does it run small?
I am 5'7" and a slim 150 lbs and I bought this jacket in a medium. I've got a LONG torso and longish arms and the jacket fits great. Plenty of room to layer, but the sleeves are all the way to the base of my fingers. The jacket does ride up a bit, due to the bomber-style elastic on the bottom, but if you have Burton pants with the zip-in feature, the powder skirt will protect your bum from snow. Hope this helps!
this jacket runs small, I am normally an xs with a 28 top and 27 pants. BUT I needed a Medium in this jacket because the waist is to fit like a bomber jacket. super cute. Has a powder skirt and the hood fits my helmet. (bern) In this photo I am so excited to get my board and jacket!
This jacket is wonderful. I bought the Amber color and it is the most perfect sunny yellow ever. The jacket fits true to size and is nice and long in the torso (I have a freakishly long torso). There is the Burton zip-in interface, snaps to pull your heels away from the snow and crud, long sleeves, and a deep hood. The insulation isn't too much, and there is plenty of room for layering without poofing out the jacket. It is a sweet, sweet jacket. I didn't give it 5 starts ONLY because I found the zippers a little sticky, which I am hoping fixes itself as the fabric softens a bit. But overall, this jacket feels and looks like a tough little cookie, ready to handle anything.
I have this coat in blue and want to buy this one but I am holding back (which I will regret tomorrow morning... unlike usual).... sleeves are a litttle long and the bottom fits snug but it keeps you warm and dry and looks awesome!..
can the fur be taken off the hood?
can the fur be taken off the hood?
Yes you can remove the fur lining. It is attached by a series of buttons.
is this jacket windproof and is it warm...
is this jacket windproof and is it warm enough for temperatures at freezing?
It is waterproof, hence, it is a snowboarding jacket. :)
Regarding it being warm enough to withstand temperatures reaching FREEZING, it is a good jacket to wear. It depends on the person and their tolerance for cold weather. If you're from the east coast (where the seasons actually do CHANGE), then this jacket is awesome. But if you're from the west coast and you rarely experience weather reaching freezing, you might want to layer underneath for extra warm until you get used to the temperature.