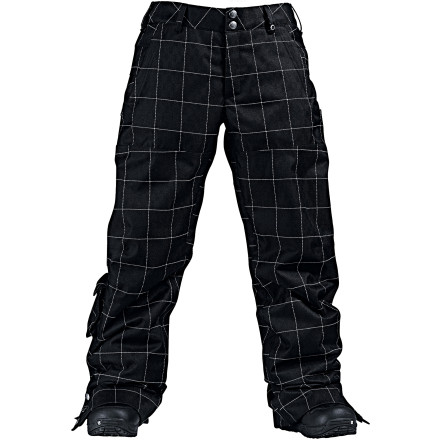 COOLEST GADGETS .COM DID A REVIEW
"There is nothing I loathe more than being cold, for some people overheating is worse. Typically it's the overly scrawny that hate the cold, either way, for those that do hate the cold, there are now these incredibly brilliant pants. They aren't the most fashionable
pants out there and not exactly form fitting, but they're heated. For those that were wondering, the pants shown in the photo are the women's pants, I was a bit surprised to discover that one myself.

Then again not every female out there wants pants that fit like a second skin, so these loose fitting pants might be a breath of fresh air for some. They come in two different styles, one featuring the slightly plaid look and the other showing off plain gray. The pants have a safe electric current that heats the pant's Thermo-Tex ink-printed liner. To control the temperature there is a small rechargeable battery pack that slips into your pocket. The pants also have mesh-lined vents to get rid of excess heat and insulation to provide extra warmth when the heater isn't going."
Do these pants have a zip to link with...
Do these pants have a zip to link with another Burton jacket?
Yes, it has Burton's universal pant feature package: Including Link Zip Jacket-to-Pant Interface

Other notables:

-DWR finished Fabrics (helps wick away moisture)
-Dryride fabrication (helps wick moisture keeping you dry)
-Pocket Key Clip (don't loose those keys in the snow!)
-Fully taped seams (again, bye-bye water -- and cold air)
- integrated waist adjustment (fits perfect every time!)
- Ticket-o-ring (gotta put that lift ticket somewhere)
- reinforced hems (come-on, we all sometimes step on our pants)
- boot gaiter with boot interface (click your pants to your boots to keep the snow out and your pants from turning to floods)
- snap up leg lifts (snap 'em up so you don't walk through that muddy parking lot and get them dirty!)
- zippered, mircofleece lined hand warmer pockets (mmm, warm!)
- thigh vents (some days its hot out! -- especially when you are rocking a fully heated pant)
- ghetto slits (sometimes you want to bell-bottom flare out the bottom. Keep your style in check)
- mircrofleece fly and waistband (noone wants rough stuff near their special parts)

One last notable -- Temp Settings and battery life goes as follow:

And yes, the review is correct, the ink in the fabric carries the heat

LOW - 85 degrees --- 4.5 - 5 hours of battery life
MED - 96 degrees --- 3.5 hours of battery life
HIGH - 110 degrees -- 2 hours of battery life (that is well over hot tub warmth!!!)
These pants are so awesome!

When I first got the pants they had an issue with the battery pack...However within 24 hours Dogfunk sent me brand new pair of pants and they work wonderfully!

I tested the pants out in an industrial walk in freezer (-10F) wearing just a T-shirt, flip flops, and these awesome Burton pants. My test run turned into a freezer party where everyone dressed in their down jackets etc. and ate frozen cookie dough! I was in the freezer for almost a full hour and although, eventually my arms felt chilly, these pants were steamin'!

I love you Burton Heated Pants!!!

And I love you Dogfunk customer service / online Live Chat!
The pants fit great if you like a loose fit. The batteries keep me very warm. It's so nice now on the slopes. No matter the weather I stay warm.
Unanswered Question
How long does the battery last before it...
How long does the battery last before it needs to be recharged? Does the battery-powered heat cover both upper and lower legs? Is there an elastic band protecting my lower leg if I'm not going to be wearing snow shoes? What is your return policy?