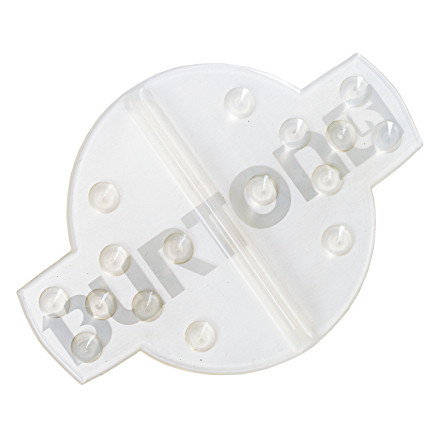 Left this stomp pad on my board for 12 hours before riding(even though it says to leave on for 24). It's not going anywhere. I can't get my boot to slide off this thing if I try. Pretty much available wherever snowboarding gear is sold.
Does what it's designed to do
The mat keeps the snow of the bottom of your boot and delivers great traction when skating. The size gives a lot of traction area, and the clear design allows board graphics to show through.
this seems like it would be GREAT, because when it is warm its really grippy. as soon as it gets cold it loses all its gripping ability and you just slide off it. i'd suggest getting something metal and actually sharp.
Dump question. Which way to you mount this...
Dump question.
Which way to you mount this on the board? When your standing on the board, can you read the "BURTON" logo or should it be perpendicular to the board.
Thanks.
It doesn't actually matter. It's more of a personal preference really. I suppose if you're wanting to get the most "scraping" power from it, placing it so you can read the burton logo while you board would offer a little wider area to scrape the snow off your boot. But that's about it.
Acutally, it does matter. Ther is a large spine running right throught the "T" in Burton and that goes parallel with the lenght of the board. The arch of the boot fits there. The word Burton goes across the board from side to side, not end to end
If I'm standing on my board, does this go...
If I'm standing on my board, does this go on with the line going vertical or horizontal?
Totally up to you but I would think the line would be horizontal....
( @ -- @ ) it should run inline with the board like in this pic. The @'s are your bindings and th -- is the line on the scraper stomp pad. Hope this helps.
this thing sucks....had it on my board for one run and it fell off somewhere along the run. and yes i put it on the right way. i even used a heat gun to make sure the glue adhered to my board. cheap glue and not very durable. buy something else.
It messes up your board if you want to take it off. Really bad glue residue, never putting this thing on any of my boards.
This stomp pad is bomber. Its clear so its not really gaudy and works great in all snow conditions. Super stomp pad.