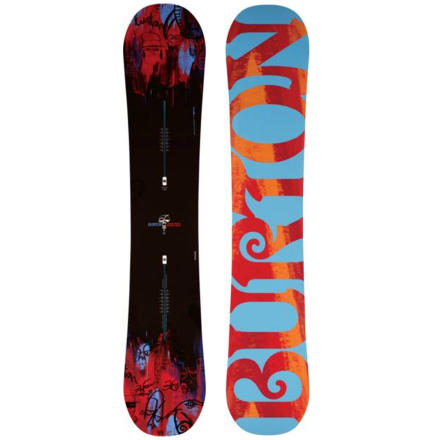 I ride the whole mountain, but mainly park....
I ride the whole mountain, but mainly park. I like soft boards usually. I'm 5' 10'' 200lbs with a size 12 foot and I just ordered a burton hero wide. Would I have been better going with this one? I went hero because 80% of my time or more is spent in the park and I already have a cambered board to ride if things are really icy or I want to hit bigger jumps. Good or bad choice?
The Hero is insane! but so is the joystick. I think you made a good choice but here is the difference:

Hero is softer and not as deep of a sidecut... Joystick is slightly stiffer (medium flex) with a deeper sidecut.

BOTH BOARDS ARE MONEY!!!
I have a 10 Custom X, and a 09 Vapor and choose this board as my all mountain machine.

Pros
1. It's very forgiving (will save you from silly mistakes)
2. Buttering is cake with this board
3. It handles speed really well (I was surprised)

Cons
1. I found it difficult to slow the board down compared to my other boards
I am 6'3" and 215 lbs. I bought the Forum...
I am 6'3" and 215 lbs. I bought the Forum 163 raider as my first board this last season and I have been progressing pretty fast in the sport. I have size 13 feet so I need a board that is wide enough for them. I am looking for a board that has a little more maneuverability and pop, is also great in all mountain board that can handle heavy powder, groomers, as well as, boxes and rail as I am building up to do a couple intermediate tricks.

Would you recommend the Burton Joystick as a good board for me to consider for my feet size, weight, ability, and also what I am looking for in a step up board? If not, what other boards do you recommend for me either Burton or other board manufacturer?
This board sounds good for you, but check out the Ride Machete, I think it comes in wide sizes 161, 164 - either of which will probably be right up your alley. It's getting a lot of great reviews this year and it won't break the bank, either.
I would go for the Joystick over anything else. It has a deep sidecut to rail turns but its still can jib the crap out of anything. Great board for all-mountain and park style conditions. It got a transworld good-wood award for a reason.

You cannot go wrong with this board! The reviews say everything!!!!!

Definitely pair it with EST bindings to get the most insane board flex and feel you could ever imagine. It makes you a better rider for sure!
first i have to say that i am a year into my riding and a solid intermediate rider. this board just can't catch an edge. this thing has really helped my riding. groomers, powder, even ice its all good. get you a joystick or any vrocker model!
Great Board super fun. Paired it with 2009 Cartels . SWEET!
just got the chance to ride this today it is so sick edge hold is great and nice pop and not heavy at all so stoked on it, must say for what i expected out of the v-rocker it really does absolutely nothing besides looking different when its on the rack if your getting this board for that reason or limiting your options to get a rocker board they do nothing i would suggest you look at all rocker and camber boards
I hated rocker snowboards....
Until I rode this one. The Joystick actually holds an edge amazingly well and is playful enough to shred the park, but responsive enough to haul ass anywhere on the hill. Very confidence-inspiring riding switch, and I can't tell you how many times I've thought I was going to eat shit and was still able to ride it out because this thing is so forgiving. You won't be disappointed - Burton nailed it with this one.
This joystick does it all! Moves Left, Right, Up, and Down. If you Select this board get ready to Start seeing the progress in your riding!@! A- This board is so forgiving and the flex is perfect for all mtn riding. B- The channel really is awesome. I recommend you at least ride this board once this season. You wont regret it!!!
MAYBE THE BEST BOARD IN THE WORLD!
The Joystick is my board of choice! I'm 6 foot and 195 lbs. (considering myself an advanced rider who likes tricks and powder) I ride the 157 as a park, rail, pipe, groomer stick... And then jump up to a 159 wide when its over knee high powder.

Just to note, this won the Transworld snowboarding good wood award!

Check out the full article here:

http://snowboarding.transworld.net/products/hardgoods/burton-joystick/

Here is what the non-Burton affiliated testers had to say:

"Very fun, stiffer rocker board."
"This board is an amazing combination of flex and pop. It holds a perfect edge and struck me as an awesome park board as well."
"Fun board to take anywhere on the mountain."
"Super good all around board. Has reverse camber which will make it awesome in pow. Still has pop to get those big jumps stomped out. And it's a bit pressy on rails."
"This would be a very fun pow board. The rocker makes it feel a little soft for jumps but it still performs. Fun for butters too."
"No confusing internet searches needed, the all-mountain rider has found its match. Fun to ride, pop for days and awesome to turn. It ain't this thing's first swing around the block!"