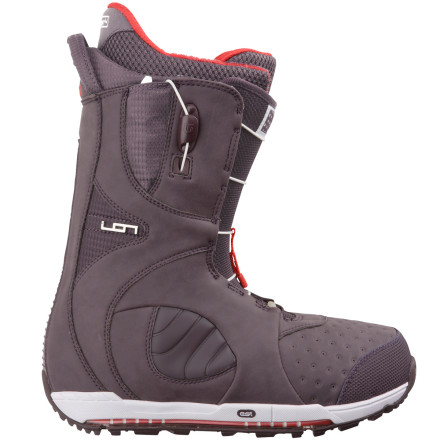 Description
Featherweight big-mountain freestyle assassin.
A good chunk of the Burton team relies on the Ion Snowboard Boot for the support they need to haul ass, go huge, and ride away with both ankles intact. A medium-stiff flex, ridiculously light weight, and enough technology to melt the average spaceship's central mainframe make the Ion a solid choice for tech-loving aggressive all-mountain shredders.
Speed Zone lacing system lets you tighten the upper and lower boot with the mere yank of a cord
DRYRIDE moisture-wicking tech gets rid of sweaty, clammy feet
EST-optimized midsole with AutoCANT padding puts you closer to the board and allows for natural lateral movement
Power Spine Backstay prevents your boot from buckling during warp-speed heelside turns
Rad Pad improves comfort through the instep, especially when you're laced up tight
Share your thoughts
What do you think of the
Burton
Ion Snowboard Boot - Men's
? Share a...
Don't even consider another!!!
It's the perfect boot. The perfect boot!
Great carving boot, excellent in comfort
Great carving boot. The boots are stiff, warm, and very comfortable. I upgraded to these from a pair of Burton Boxers. The dual-zone lacing and modified toe box improved my boot comfort quite a bit. Used to have a pressure point at the front of my old boots that would cut into how much riding time I could get into a day. Now that is completely gone and I can ride all day long. The boot is very responsive and great when you need to really hold an edge on the icy conditions we sometimes get here on the east coast.

My only two complaint is I have had the speed zone laces loosen up on me a couple times already and I only have a few days of riding on them. Makes me wonder what happens when the lock that holds the laces in place wears out, does not look like an easy part to replace. Also the price is a bit hard to swallow, but I guess if you want absolute comfort you just have to pay for it sometimes.
Is there away to tighten the top part of the boot?
Very comfy from day one, but the top part of boot would get loose after 2 runs. Not good when you foot starts to come out of the boot on a tight curve! I bit to flexi would not call them 8-10 on firmness. Aside from that nice boots, fit great from day one. There was no need to break them in, Burton got the comfort form down.
I was thinking that with how stiff Burton put them as they would be nice for free riding but they seem more suited for the PARK.
What bindings from burton go with these...
What bindings from burton go with these boots
I paired mine with a set of Restricted Cartels. The ribs on the back of the boot key into ribs on the heel cup of the binding. It adds to the responsiveness of both edges.
Great, but seem to loosen a bit
Most comfortable boot I tried on in the store. Just tried them out tonight on the slopes, awesome!! So light and small, but so responsive and comfortable. Major upgrade over my older boa boots.

I wear a size 14 mountaineering boots, but a 13 fits me in these. They run bigger than the high-end K2 and DC boots I tried on in the store. Perfect fit.

Note I also tried on the Burton Drive Xs and there was a night/day difference in comfort, with the Ions winning.

Only problem so far is that they seem to loosen up a bit as I ride. Kind of sucks, not sure if it's something I'm doing. I usually tighten one of the boots at least once after a few runs, or just deal with the loosening. If you have advice on keeping them nice and tight how I like it, let me know!
Nicest boots I have ever owned
Decided to upgrade most of my gear this year and this was one of the items that got upgraded. I had Burton Ozones prior to these which are primarily a park boot even though I do not ride park (not sure why I had them) and decided to go with the Ion's. These boots are significantly stiffer but not in a bad way. They are very supportive while at the same time very comfortable. The fit feels similar to the Burton Sabbath's I owned a few years back although these have a much smaller profile. I got the purple/white color which is accurately described by the photos. They fit true to size and I plan to have them for many seasons to come. The price is lofty and required some serious negotiation with the wife but doing the dishes for a year is a small price to pay for a boot like this.
Probably amazing for most feet, but...
This is an awesome boot, for the price it better be. It has some really killer features (the lacing works, the rad pad works, the backstay is cool, the autoCANT padding is very very cool) and I'm sure I would have appreciated if it wasn't for one thing. If you have high arches and a high instep like I do, this boot will not work. I wore it around the house for about about an hour...numb toes and bruises on top of my feet. It fit in every other way possible and can accommodate a lot of different feet, but if you know you have a high instep, these will HURT.
Spent the last 3+ years riding the 32 Timba's which were great but after 100+ days on the mountain they were beat up and ultimately snapped an inner lace on my last day last spring. Spent months searching for boots and looking at different products. I had previously sworn by Burton products but as their costs escalated I began looking elsewhere and now ride a Rome board/bindings and all Analog gear. Boards, Bindings, gloves, helmets can all be had from other manufacturers for a fraction of the cost. I kept coming back to these boots though and ultimately decided to pull the trigger. I have 4 days on them this year (East Coast has been suffering from lack of snow) and honestly i'm impressed. The lashed boot is easy to get in and out of and the customization for comfort is endless. It's super light weight, and it literally took NO time to break in, no cramped toes, pressure points or packing out the boot, bullshit. Just slipped them on and hit the slopes like I had them for years and they got better with each day. I'm a size 10 sneaker/dress shoe, and ordered a size 10 boot and it fit perfect. True to Size! I would say Burton's technology when it comes to boots certainly surpasses the competition and with a boot being one piece of gear that can RUIN a day, don't be cheap!
By far the best boot out there, bought a different pair this year returned them after just three days, bought another pair of IONS and slapped myself for trying something less than, forgive me Burton I will never stray again ...