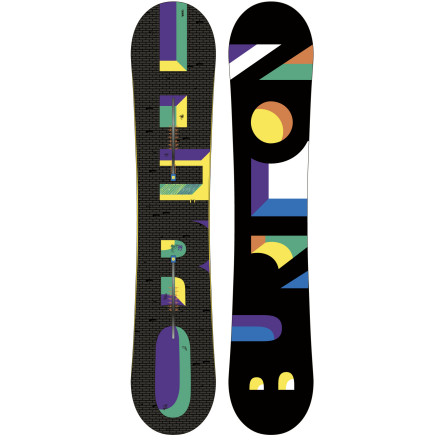 Community Images
Even if it's leaning in the corner of your living room, or (more likely) proudly displayed on the mantelpiece above the fireplace with your doctorate and your Astronaut Academy application form, the Burton Hero Snowboard is dying to get into the terrain park. V-Rocker, Scoop Technology, and a soft, gooey flex give the Hero the forgiveness of a saint, but Hi-Voltage Jumper Cable stringers add enough pop to send you off, up, and into low-Earth orbit.
V-Rocker profile offers continuous rocker the length of the board for catch-free playfulness and float in the pow
Super Fly core strategically places stronger, lighter wood in specific areas of the core to provide strength and pop
Dualzone EGD places the wood perpendicular along the toe and heel edges in two different zones to optimize edge control
Squeezebox technology features varied thickness waves at upper core top to transfer energy from underfoot to the board ends; The result? More pop for your ollies and turns
Jumper Cables ultralight rods form a V-shape from the outer bindings to the tip and tail-adds pop to the mellow flex
Frostbite edges extend slightly underfoot for better hold in icy conditions
Scoop technology features an exaggerated convex shape under the tip and tail for unmatched forgiveness and catch-free shredding anywhere on the hill
The Channel allows you to micro-adjust your stance over a greater length and a seemingly infinite range
Pro Tip reduces weight at the tip and tail for less swing weight
Twin Flex has equal amounts of pop packed into the nose and tail for easy switch shredding
Color varies slightly depending on size, so it may not match colors pictured
The best board ever, don't listen to other reviews. If you're interested in park, this board is great...very flexy and poppy, definitely recommended for jibbing and freestyle riding. Works well in pow (especially if you get the wide option) but is intended for park in the end. Used it for the 11-12 season and will again next season...it's pretty beat up but it's a Burton and can take some abuse
im new to snowboarding, im 4foot 11inches,...
im new to snowboarding, im 4foot 11inches, 73 pounds, what size board should i get?
im 5'10" and 145 lbs. i mainly ride park...
im 5'10" and 145 lbs. i mainly ride park but i will go anywhere on the mountain which size should i go with 152 or 155?
Hey Gage,

Well this should be mainly park board as it is pretty much a noodle. I would go 152 for sure.
i have had 2 of these boards this season. a fun super playful board to ride. i broke the nose of the first with about 15 days on it. the second the top sheet is cracking in many spots and the channel in the back foot is lifting up at the hardware spots. i am still riding it and dont notice that stuff while riding. farely fast board but if you only ride 10-20 days a year and like to jib and hit the park it should be a awsome board. but if you rip everyday and want a board ur not gonna have 2 worry about im finding out this is not the board for you.
Worst board I've ever owned. Shredded to pieces after riding it for a week and now Burton is refusing to replace it. Riding on snow will break it. Don't buy it unless you just plan on staring at it. Try a Rome or GNU board instead. Atleast they can make it down the mountain.
This board pretty much does it all. It has a playful flex and powerful pop. It cuts like a samuri sword and jibs like a champ. I used to have a custom and feel like this board is an all around better ride.
very fun board to ride bought in november and i already broke the nose of it.i put about 15 days on it. got a new one on the way hopefully it was just a defected board.
Had the 2010 model Hero and the top sheet...
Had the 2010 model Hero and the top sheet cracked. Sent it to Burton but not sure if it'll be warrantied. Anyone know if the newer Hero has a better top sheet?
ya its better than last year
Got my replacement 2012 Hero in last week and tried it out over mlk weekend. It was much better than my 2010.
I cracked my top sheet on the 2012 Hero but only after taking some harrrrd hits in the park. It can take a beating.
Very good intermediate all mtn/freestyle board.