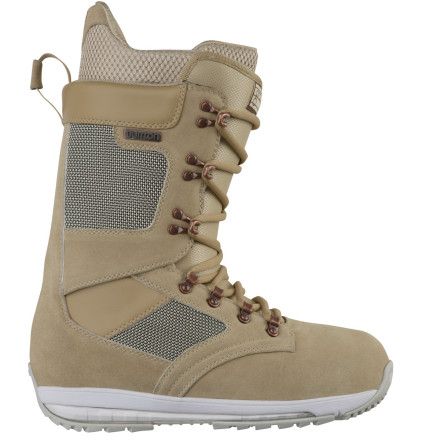 Burton's lightweight, all-mountain-freestyle-killing Grail Snowboard Boot is back up in that ass with the resurrection. With a low-profile fit, moderate flex, and enough cushioning to make your mattress jealous, the Grail laughs off overshot landings and begs for more. The all-new snow-proof internal gusset helps your feet stay warm and dry while you bootpack through knee-deep snow up to the booter you and the crew built last week.
AutoCANT dual-density cushioning allows your foot to roll more naturally for better balance, more comfort, and smoother weight transfers
Holy Shit outsole helps you ride away from overshooting jumps without heel bruises
Shrinkage footprint reduction technology reduces the boot's overall size for less bulk and more board-width options
Rad Pad internal cushion protects the sensitive instep area, even with super tight boots
Pleased with this boot after 1 season, it replaced a 10 year old pair of Burtons that had lost some of there support. I am more of a "down-mountain" rider, like to charge fast and stay far away from the park. Great support, fairly stiff (even at just 6/10 on the Burton scale), but still comfortable, even cranked way down. Suprisingly the old Burtons had better heel hold, but these have been ok. Lace-up is the way to go, easy to fix, easy to adjust to your specific liking.
Best boots ever. There I said it. The search is over and you can sit back knowing that you ordered the sickest boots for all-mountain freestyle riding.

These boots are incredible cushy, so cushy, that I actually prefer to ride without the included insole!

Not too heavy, so boot packing for a little bit doesn't take too much out of you. They're also super warm, and you're never going to have a problem with snow getting inside.



The flex is perfect if you like to tear up the whole mountain. It'll handle runs down steep powder when the snow is good, and it'll still give you decent flex for throwing down in the park when it starts getting a little warmer.

I wear a size 9 street shoe, but am more of an "actual" 8.5, and the 8.5 is perfect for me. Snug at first, but after you break it in, it fits perfectly.



These boots will definitely deliver, the lifties might have to call security to get you off the mountain
, ☃bcs_badge_alumni_label☃
Holy Sh!@t Outsole
This video describes the technical aspects of this particular Burton technology.
Perfect flex for all around riding, nice and lightweight, and a great fit. I was pretty bummed to find out Burton discontinued these for 2013... don't sleep on these, especially at 40% off!
These are pretty good boots but they smash the top of my foot. Thought they'd break in but they still hurt after a season of riding. I've never had this problem before but heard it's kind of common.
had ridden the slx for 5 yrs before this love burton boots, great right out of the box. fits true to size. love standard lace systems.
Who I am:
I am a 50 year old Minnesota snowboarder who gets out 15-20 times a year on 300 feet of vert ice. I shred 10 days in Colorado every year also. I ride a 158 Custom X and I don't do rails or any park.
Comparison:
These boot are replacing a 5 year old pair of
Hails, size 9.5 which were comfortable but packed out to the point of being sloppy.
I have wide feet and I have found that Burton boots fit my feet the best. The Grails fit well right out of the box, my toes come to the very end without pain and they aren't as tight width-wise as my Hails when they were new. I am wondering if I could have ordered size 9 and let them pack out (Hails in size 9 would never have fit me, I had a pair in that size and they never packed out to comfort).
The Boot:
As I mentioned already, the boots fit well right out of the box. The inner cinching system (I don't what it's called), can be pulled quite tight compared to my Hails; the Hails hurt my instep when cinched tightly. The Grails also fit better in my bindings than the Hails did and they hang over less.
Over all, I like these boots better than my Hails, they feel less clunky and are slightly more responsive. If I had a normal width foot, I would definitely try on a size 9.
I have only worn these boots a couple times in Minnesota, and I will update this post after I shred in CO.
all and all a good boot, very comfy and warm. construction seems good so far (used them about 4 days on the mountain so far) only 2 negative things to say abut them so far. one is about the color, I have the tan ones and while I like the color the boots have already begun to get discolored where my hi backs rub on them. not really a big deal though. The second thing may not be an issue for everyone but the boots fit just a little loose across the top of my foot as I have long skinny feet, I'm thinking a good pair of insoles should resolve the issue with no problem.

My setup:
Board - Burton restricted Love 157W
Bindings - Burton Malvarta's
Boots - Burton Grail
The 'Holy" Grail of boots!
I bought the Grail after doing tons of research for a boot that would work for me. Now there are a lot of great boots out there but there is something about the way Burton does their thing. The Grail looks sweet and fits great. I am happy with the way they perform, a little more on the stiff side but with enough flex to ride the park. I also love the liner and classic lace up styling! I would definately recommend to someone who wants a quality boot that they can use all mountain.
Are these boots good for thinner feet? Also...
Are these boots good for thinner feet?

Also i normaly fill a pair of 11.5 nicely in all forms of shoes, do these fit true as well?
I bought these last year in a 9.5 (I usually wear a size 10 shoe) They packed out and had a good bit of heel lift within a few days. Will be ordering 9's this year. So for me I usually wear my shoes a little big I guess, but I have never worn a size 9 shoe. I would at least go down and half size if not a full size....
I downsize a full size from my shoe to my boot size, but I'm a bit of a sadist. You may want to try going half a size down. Fit should be pretty snug at first...when boots are new, you want your toes touching the front when standing straight up. Otherwise they'll pack out and fit sloppily. Toe box on these is pretty neutral, although definitely wider than, say, an Ion.