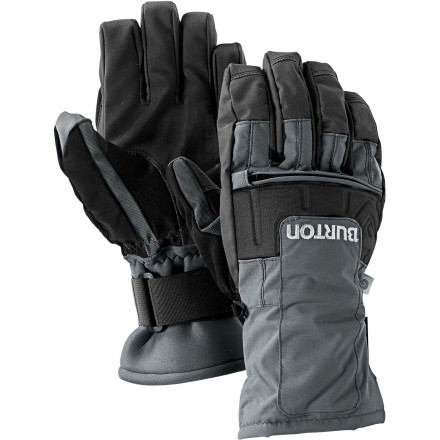 Share your thoughts
What do you think of the
Burton
Gore-Tex Support Glove
? Share a...
These were ALMOST everything I was looking for in a glove and more. There's a rubber palm (which should be the most durable and waterproof material available), a slight padding on the lower outside edge area of the palm (to SLIGHTLY cushion impacts), Gore-tex, a little zipper area to slip a hand warmer just in case the temps go extreme, and it's a longer glove that goes under your jacket sleeve. My ONLY gripe is with the so-called wrist protection. There's no way these could save your wrist from a break. It's a thin plastic that you can easily break by hand. I actually broke one of the guards on a slight fall. Get a size larger and individual wrist guards if you want full support. These give a false sense of protection, but everything else about them is perfect.
Very warm!! I'm just learning and my hands never get wet!!! Being able to remove the rib over the hand is nice too.
Gore-Tex is awesome, a built in wrist guard helps prevent any issues in the park, and the fleece lining is nice and comfy on the inside. For days when the temperature drops to the single digits then a hand warmer does the trick for keeping warm; a liner would work as well. Good quality construction, would definitely buy again
What is the thermal rating of his glove?
What is the thermal rating of his glove?
Gloves do not have a standard rating system. This glove has no insulation. Good for waterproofness, not so great in the warmth department.
I have both Gore version of this glove, this one and the one without the wrist protection, I like the one without more due to the liner glove. This glove is very good though! it keeps you dry and the Gore lining breaths very well... the wrist protection is not as good as wrist guards, take that in mind.
6 years in a row! This is the first time I will use the Gore-tex version. Last 3 generations I used the regular one the wrist support is good and reduces the chances of hurting your wrist.. is much better than uncomfortable wrist guards but do not expect the same protection..be careful.