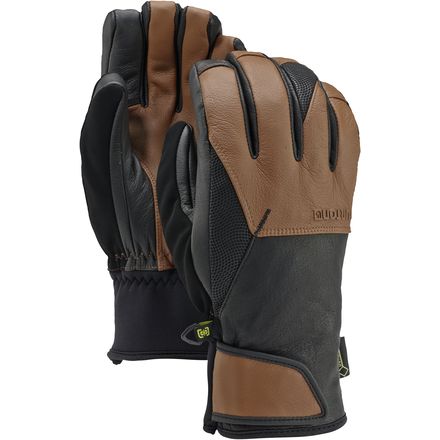 Description
Like a gondola for your hand.
Take the warmth and shelter of the gondola with you long after you've left the lift with the Burton Men's Gondy Leather Glove. It's equipped with Gore-Tex waterproofing and Thermacore insulation so your hands stay safe and sound all day long.

Gnar Guard leather is extremely durable, yet supple so you can keep a solid grip, and it's backed by a Gore-Tex membrane to guarantee your hands stay dry. It also feature Screen Grab technology, which allows you to use your touchscreen device so you can change the tunes without exposing your fingers to the cold. Thermacore insulation is warm, yet low-profile to keep your fingers toasty without making you look like you have bear paws. Finally, the Gondy has an ergonomic, pre-curved shape for a natural and comfy fit.
Gnar Guard leather
Gore-Tex membrane
Thermacore insulation
Screengrab technology
Ergonomic pre-curved fit
I haven't had a chance to try it out yet since it's the middle of the summer but i love the glove. I've just been wearing them around trying to break in the leather...seems like a great combination of warmth and dexterity. Great looks and great quality, and for those worried about appearance, the color of the glove is as pictured on this website, NOT the color on the burton website