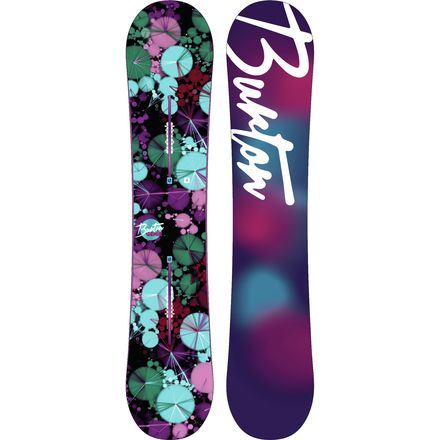 Trade the rental boards in for a Burton Women's Genie Snowboarder and marvel as it grants your wish of transforming you from beginner to full-fledged shredder. It has an easy-to-ride design that makes progressing fun and easy whether you're learning to link turns or hitting boxes in the park.
The Flat Top profile is mostly flat for a stable feel and easy turn initiation, with rockered tips for a forgiving feel. If that wasn't enough, it also has a super-soft flex and an Easy Rider convex base that lifts the contact points off the snow so that it's almost impossible to catch an edge. Plus, the Easy Rider edge tune rounds off the edges so they don't feel grabby on snow and won't dig in when you're learning to slide boxes.

Inside this beginner-friendly board, you'll find a Fly core that's composed of tip-to-tail wood for lightweight durability, and biax glass offers a mellow and consistent flex for smooth, effortless turns. This wood core features a Squeezebox Low profile that creates stiffer zones outside the bindings and a softer flex between the bindings, resulting in more control with less effort. Additionally, the board's low-maintenance extruded base requires little waxing throughout the season, allowing you to ride with minimal fuss and hassle.
Flat profile with rockered tips
Directional tapered shape
Soft flex
Biax fiberglass
Super Fly core with Dualzone EGD and Squeezebox Low
Cruise Control edge tune
Extruded base
What do you think about this product?
Have questions about this product?
Unanswered Question
I bought this board a fe weeks ago but my post forwarding company won't forward to md because it's a 150cm.
Do you have any ideas on how to get it to Australia?
I can cel it shipped back and organise ups or so eying to send?!?
Many thanks
Regards
Kendall
I was wondering if this would be a good board for me. I am 5' Weigh somewhere between 120-127. I would consider my self to still be new. I'm still trying to learn to link turns. Thank you.
Amy,

The Genie would be a excellent board for you. It is soft and playful so it will be fun to learn and get comfortable on. As well, as it has a tapered nose so you will be able to get the hang of linking turns!