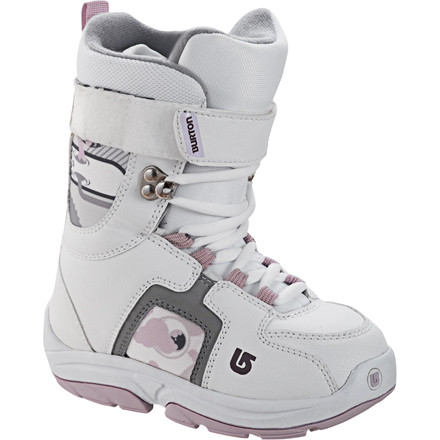 Detail Images
Perfect fit.True to size and toasy warm for my Lil' Grom! As usual lightning fast service.Thx
They run small - Good Value
Bought these for next season, so can't comment of performance, but they do run much smaller than you would expect... so get one to two sizes larger especially for growing kids.
i have a 3-year old and he wears a toddler...
i have a 3-year old and he wears a toddler size 9. of all the sizes in the drop-down menu, which one would be the closest to his size? i spoke with a burton rep yesterday, and he told me the smallest size they make in this boot is an 11. is that an 11 for toddlers or 11 for kids?any help is greatly appreciated. david
Hey David 11c would be the smallest. We bought a 13c and a 3 and the 13c was much smaller
Comfortable, easy on, easy off. Bought the boot one size larger than current shoe size in effort to extend the life time fit. Thought a second, heavier set of socks may be needed but street socks work fine. Recommended, would buy again!
I bought these for my 10 year old daughter. According to her they fit great, are comfortable, and not that hard to lace up. According to me, they were affordable here at the dawg. There isn't many options for kids' sizes, so finding them here rocked.
comfortable boots.. don't have any complaints about it
These boots are fantastic! My son is 5 yrs old and this is his first year boarding. NO complaints about discomfort or warmth! Plus they are easy to lace up and stay tight!! The only problem we had is that we had to send them back and forth a few times due to sizing. He wears an 11 shoe and a 13 hockey skate, we ended up with a size 3 boot! A little disappointed that the rep I chatted with told me that these boots run true to shoe size. Overall a great boot with a lot of style!
Sorry ,they didn't fit....
These were a gift to my 11 year old grandson along with new Burton bindings and Burton Board. I was given the wrong size for ordering the boots. Since they were visiting from out of state and only had a few days of our beautiful new snow to enjoy, I had to go out the next day and buy the correct size of Burton Boot from a local sporting goods store. They are totally awesome as are all Burton products.
these boots are great, I got them for my goddaughter for Christmas since this will be her first season. So far she loves them and they fit great. I'm sure she'll be shredding it up with the fam in no time.
These boots are great and they keep my feet warm. They are nice to ride in and everything the only thing is that if you are buying these for yourself or someone else, I had to buy a size bigger than than my regular shoe size. Even then I had to take out a lining of the boot to make it fit. Which reminds me the room-to-grow system is awesome and for the price you can't go wrong.