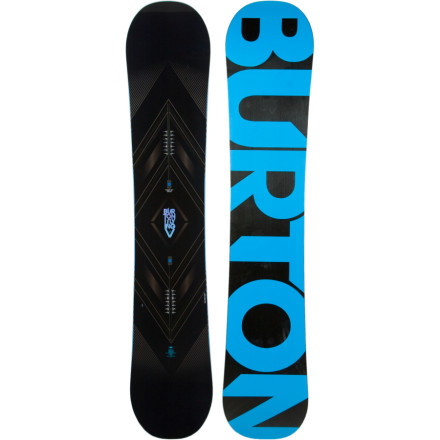 Detail Images
I've ridden the Burton Hero and the Custom V Rocker boards for a couple days each, and neither compare in their handling precision to the Flying V. This board makes quick cuts very easy, so it's great for moguls and backwoods terrain. It's also is great at picking up speed quickly and maintaining control at higher speeds. I cannot say enough about how awesome this board is.
I was wondering if there is anything...
I was wondering if there is anything dramatically lost using an 08 triad binding with the adapter on this board? I have a custom x for free ride and want something more for park. Does this work well for both or should I keep my custom x too.
Best Answer
Keep your Custom X with the Triad for freeride... (even though you will never ride your X after getting on this flying V)

Compared to riding the Flying V with normal disk bindings... with EST's you get almost 90% more flex out of your board -- especially underfoot because you have no plastic underneath you foot, but just EVA cushioning. And, no, I did not make that up.. its a real measurable test that Burton did to compare their two systems.

Ride this flyin' V with EST's!!! It will dramatically affect the flex and feel. This board is insane. I ride the easy livin' flying V now and hands down, ITS INSANE! Get ready to live, but definitely match it with EST binders for unlimited stance options, and the most amazing board flex and feel you have ever experienced!!!
I was scepticle about having the camber under the bindings which made a very noticeable rocker between the bindings. It was an idea that seemed more like a selling point rather than a good riding board. We already know that ICS channel sys owns and im not gonna talk about that. I was completely amazed in how the board handled. There were a few times i should have caught an edge but the board seemed to just naturally float back where it needed to be without much thinking. Im more of a all mountain freestyle rider than i am a park junkie but it made me look like a pro on the boxes. On the rest of the mountain it handles really well at high speeds and carved like any other camber board i have rode, but during dynamic spins and jumps on just about any terrain i could find, the rocker between the bindings really showed off. It just seemed to spin out perfect on every landing, even the ones that i should have caught an edge on. Im totally stoked about this board. The flying V shape is a completely different shape than any of the other v rocker boards burton has and it absolutely slayes the entire mountain. The pop was amazing, the carving was amazing, in the pow it just floated with no effort. There was some concern about this board in the reviews that i read before i bought one about it just seemed like a knock off from Lib Tech magna-traction. In my opinion its the same amount of grip and a better design. Think about it. With the camber under your bindings it adds 4 more contact points on each side of the board when put on edge. Same concept as magnatraction, however tuning this edge is a whole lot easier that tuning one of Lib's boards. It adds contact points through camber, not serating an edge. That offers much easier edge tuning with a regular edge tuner. Lib has some great boards, one of the best even. But there is always a different way of doing things and you cant blame burton for improving a great idea and make it more user friendly. With the mix of rocker and camber it will handle the entire mountain, and perform in the park just as good as any other park board. Sounds like a win win situation to me. I cant wait to see burton put this rocker shape on more of its boards, and i will certainly buy another flying v next year if they make one. Hope this helps! This board is sick!
So.. I might just be dumb but I was...
So..
I might just be dumb but I was researching this board and it seems like Burton ripped off lib-tech. True/False? How are they different? Which one is better banana tech or flying v, magna-traction or EDG?
Best Answer
What's up Matt B! Burton did not rip off Lib as both rockers are actually substantially different.

Banana - There is radial rocker banana between your feet, it becomes flat underneath your bindings,then you have your tip and tail kicks. (C2 Power Banana would be similar to Flying V)

Flying V - There is a V-rocker (not continuous radial, as it breaks at a central point) between your bindings, then the Flying part means that there is camber underneath your feet and out towards the tip and tail kicks to help hold an edge, and then it v-rocks again on both the tip and tail before kicking upward. Make sense? I know its kinda gnarly complex.

When it comes to EGD combined with Pressure distribution edges (called frostbite) and differentiating that from Magnatraction.

EGD is switching the woods grain direction under the bindings to enhance edge hold. (think of trying to break a toothpick by flexing them between your thumb and middle finger -- kinda hard to break) That combined with a pressure distribution edges (similar to magna) in which the edge protrudes outward 1 mil to again help with edge hold. An edge technology is very important when considering rocker-ed boards! (as rocker boards are naturally more loose feeling on snow -- not as much true and tried driving power as historical camber proves)

Magna is a kindof like looking down a serrated knife and much easier to visually see. It provides similar edge hold to PDE, and shifts edge pressure away from the tip and tail.

Lets face it, I'm biased. Lib makes great product, but I prefer the flying V on Burton... I've ridden this board in all conditions and its awesome!!!