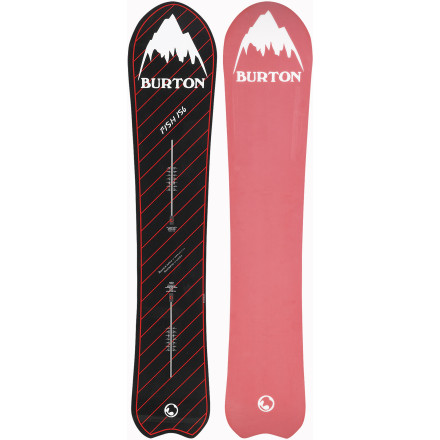 The Burton Fish Snowboard uses an S-Rocker shape, subtle swallowtail, and tapered cut to give you unreal float in the deepest of the deep. This powder stick combines the best of standard and reverse camber shapes to give you a surfboard feel that still holds an edge when you pull onto a groomer. An ICS mounting system lets you run regular or EST bindings with the opportunity for nearly limitless stance options. When you're really ready to open up the throttle, Burton's Sintered WFO Vision base gives you all the speed you want, and a Powder Fly II core provides the responsive feel you need to lay down turns when you're really cranking.
Share your thoughts
What do you think of the
Burton
Fish Snowboard DO NOT USE
? Share a...
I've been a Fish owner for years and I rode an older 156 Fish HD before picking up an 09 160 Fish with S-Rocker. I have to say, the difference is incredible. Insane float, crazy maneuverability, unmatched stability and even tolerable performance on groomers. If you can afford to make the investment in a powder specific board (just because I said it was tolerable on groomers doesn't mean you want this as your only board) you really can't go wrong with this board. Definitely think of the terrain you ride most often. If you mostly find yourself in tight glade situations then the 156 will rule your world. If you seek out big open bowls and stupidly fast speeds than the 160 is the bees-knees.

I can't say enough good things about this board.
Hi, I'm 6',3'' 175 lb's and have big size...
Hi, I'm 6',3'' 175 lb's and have big size 13 feet. I would love to try this board but I'm worried my feet are just too big. Any feedback?
i had a similar problem cept i weigh closer to 235, throw some elevators on it and go go go...this board rocks and floats like nuthin else
this board is absolutely insane. i used it for the first time yesterday and couldn't get the grin off my face all day. there were only a few inches of powder but the board was still totally fun when i couldn't find fresh little stashes. it's so quick and nimble that you can run all around and just slash anything to sh!t.....sooooo much fun! when i did find my few little powder nuggets hiding in the trees it left me praying for snow for tomorrow. i CANNOT wait to ride this board on a pure powder day, it's going to be insane. if you are looking for a board just for the powder....BUY IT! if you're not happy with it you should go buy some fat skis or something because this board is SSSSIIIIIIIICCCCCKKKKKKKK!!!!!!!!!
i'm 5'6", 135lb and i ride a 153 salomon...
i'm 5'6", 135lb and i ride a 153 salomon forecast and i've always wanted a dedicated powder board... the 153 is even a bit long for me... does anyone make a good powder board for us little ppl?
you might want to look into a malolo... there are a few more choices for sizes than the fish. worst comes to worst, try lookin' for a women specific malolo. (I'm not trying to be a dick but I think the women's version comes in a 149...)
I have been lucky enough to ride this in perfect untracked powder in BC while Heli boarding. It is a dream - totally slashy in the trees, stable in the high speed open bowls and NO leg burn. I am always amazed when I get back on a "regular" board how different it is. Cannot speak to all around use, but I don't think you would buy it for that. If you can afford a dedicated powder board, this is it.
Will my Flow bindings work with the ICS...
Will my Flow bindings work with the ICS or only Burton bindings?
Only Burton bindings will work with the ICS boards. Ideally you want the est to fully use the system.
I'm 5 foot 10 inches, 165 pounds. I ride...
I'm 5 foot 10 inches, 165 pounds. I ride an Option Signature 160 as my regular all mountain board. Do I want the Fish 156 or 160 for the deep deep stuff?Cheers, Sam
The old rule of thumb with the Fish was to subtract 4 cm from the length of your favorite freeriding board. I usually rode a 164 so i bought the 160 Fish. If you now ride a 160, this would put you in the 156 Fish range. The gist is the Fish rides like longer board. If you mostly ride big wide open stuff a longer board would probably be better all around. But in tight trees a shorter Fish might be better.
I bought the first model of the fish that Burton put out. It's at least 5 years old and I still put 30-40 days a year on it. At 215lbs. I blaze trails for all my friends, especially in the flats, in places I should sink to my knees, I will float at high speeds on the fish. The fish is like a powder Porsche, fast and responsive, but not an all mountain board. Scary in the park, and terrifying in the pipe.
I purchased one of these before xmas last year and I was lucky enough to have a weeks worth of powder. At the end of every session I required a surgeon to remove the stupid smile from my face. It feels like a surf board on snow. I'd have next to no leg burn where friends were having to pull up for breaks. It turns on a penny. I already feel like I've had my moneys worth in only a week. This thing just transformed the powder experience. Get oen you'll not be disappointed