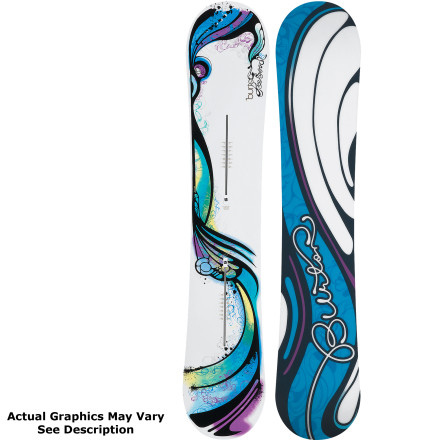 Unanswered Question
I was thinking about getting this board...
I was thinking about getting this board since its such a good deal right now.

Are there any major changes between this model and the new model coming out this year?

What bindings and boots would go best with this board?
Would the Stilettos work?

Also, I was unsure about the sizing, I wear a 6.5 in street shoes, what would that be for boots and bindings.

Thanks!
I'm 5'3 and about 107lbs and I have the 140. This boards alright pretty flexible but not the fastest. Fun in powder & glades. Ok for park, my board was 2 small so I felt like nothing was strapped to my feet while in the air. IF you are my size don't get the 140 get the 144 I regret it terrribly. I actually broke this board recently so you do the math. EST Bindings are ridiculous I have those zebra Lexa ESTs and they are total crap and i broke a few parts of them within the first month, maybe I just ride too hard but I consider this board one that may not be able to handle you.
I've rocked it ALL season
I work up at a ski resort on Mt Hood and while I have the capablility to demo other boards for free I've stuck with this one all season. It's light and easy to rotate around if you're doing tricks and though it's directional I can rock it pretty easily while riding switch. I love, LOVE the channel system so that when I need to adjust my stance for powder I can do it much quicker then my friends. The graphics that appear when it get's in the snow aren't worth writing home about...I still haven't figured out which ones appear as it's such a minut detail...but I didn't buy this for the special graphics! The only downside to this board is that I can't throw my 115 lbs around enough to make it really pop in the park...but then again, this isn't technically a park board, I just make it go where I need too: powder, groomers, trees, kickers, pipe...this board has no problem keeping up with me :0)

I ride the 154
This board actually does what I tell it to do! It doesn't get "squirrley" when riding really fast and it is nice and light for getting air. It has gotten a lot of love from me this season. The ICS set up is cool because you can really custom fit your set up to exactly how you want it. I have 2006 escapades and they work really well with it (non EST). My only complaint is durability but I am also really hard on my board so maybe I am not the best source. I am so glad that I invested in this board this season, it has really allowed me to advance my riding to the next level. It also has a sick graphic, I am constantly getting compliments.
On Burton's website, it states both the...
On Burton's website, it states both the ICS and the regular Feelgood are All Moutain in boards. Every where else says differently. Most places state that the Feelgood is an all mountain board and the Feelgood ICS is a freestyle board. Is there a benefit to the ICS board? I was looking at getting a new All Mountain board, and I figure $50 in price different isnt much so if it was better I might as well. I am debating between the Burton Feelgood and Supermodel. Can someone please help?Also, for bindings I was looking at getting these Burton Escapade EST Snowboard Binding - Women's. Is this good for all moutain boarding?Thanks for any help in advance!
There is no difference between the Feelgood and the Feelgood ICS... aside from the mounting system. What the ICS offers will affect your stance, not how the board rides. The Feelgood is a stiff board that does well on the groomers and in the pipe. Its just OK in the park, there are much better choices for a park-specific board. The Supermodel is an "all-mountain" board that does well in the backcountry. It has a different angled side wall on the tail of the board (to steer you through powder) and a longer nose (to keep you above the powder). The Escapades are great, I personally rock them on the Feelgood ICS and they offer great support and response.
Do you HAVE to use the chanel style bindings...
Do you HAVE to use the chanel style bindings with this board or will the regular old 4 screw bindings work? I have a pair of Flow bindings which I love, and I need a new board, but I want to use my Flows with my new board.
You can use your Flows if you want. The board comes with a replacement mounting disc that drops in where your old 4 screw plate lived. From the Burton website:"...can be utilized with both Burton's EST™ and disc-based bindings alike."...However, the baseplates that come with the ICS boards to allow you to use older bindings are ONLY compatable with Burton bindings. The teeth pattern on the plate will not match up with any other company.http://www.burton.com/tech/#/stories/5/1/
no thats bullshit don't buy the channel its horrible, i am selling my burton board with it now, it is not compatible with other bindings i dont know what the person is talking about!!!!