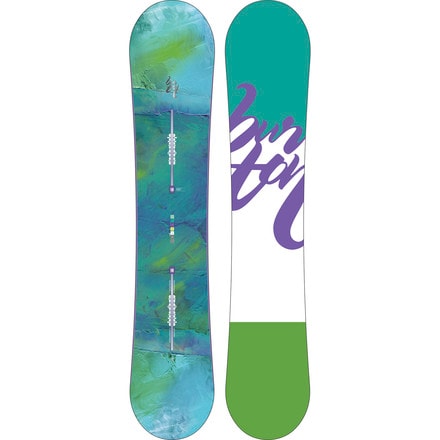 Description
It's like floating around the mountain.
The Burton Feather Women's Snowboard is built to take the sting out of progressing your riding. The directional shape is beginner-friendly, and is versatile enough to keep up once you've learned the ropes. The Cruise Control base profile lifts the edges off of the snow, which means you'll be linking up effortless turns instead of catching edges. So when you're ready to upgrade from those lame rentals and get into something sweet, the Feather is your ride.
The Feather is built on Burton's V Rocker profile, so it's fully rockered. The upshot is the Feather turns on a dime. Better yet, the convex Cruise Control base makes it all but impossible to catch an edge flat basing. And that means that whether you're on your first laps, or you're already on a steady track of progression, snowboarding is easier and more fun than ever.
The women's specific Super Fly Core is profiled for a smooth ride. Paired with The Channel mounting system and EST bindings, it gives the board a natural flex. The extruded base holds up well to rails and jibbing, it's easy to repair in the event of a core shot, and it runs fast even if you forget to wax it for a few days.