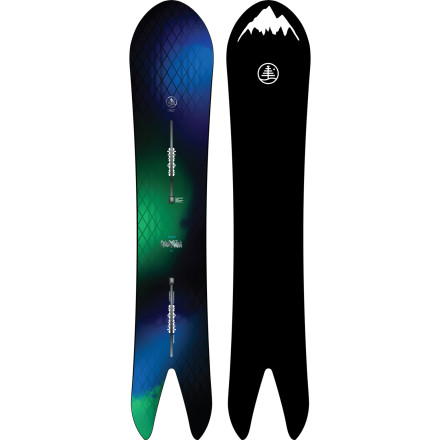 Videos
The Burton Cloudsplitter's swallowtail shape harkens back to a simpler time in snowboarding. But don't let it fool you, this is no museum piece. It has a flex-tuned core, which works in conjunction with The Channel mounting system to produce an unrestricted flex over the full length of the board. The cambered shape generates powerful turns and a planted feel at speed. Throw a moderate 10mm taper into the equation, and you're looking at a powder board that slays the steep and deep.
The Cloudsplitter employs traditional camber for uncompromised edgehold and powerful turns. Naturally, the directional shape is enhanced by a directional flex, which matches a softer nose to a stiffer tail. Since it doesn't rely on rocker, the swallowtail and tapered shape help the tail sink and the nose float to the top. It all adds up to a precise ride in deep snow.
Burton's Pro Tip construction reduces the amount of material in the nose and tail, which makes it easy to throw the Cloudsplitter around in tight trees and critical lines. A super-fast WFO sintered base will keep you flying around the hill with minimum drag. The Slimrail sidewalls further drop the weight, without sacrificing durability. The Durability is further enhanced by Infinite Ride, which means that it not only feels broken-in right out of the box, but it'll stay that way for the life of the board.
Traditional camber
Directional (10mm Taper)
Directional tapered sidecut
Dragonfly Core with Multizone EGD
Sintered WFO base
The Channel binding mounting system
Hey Guys, I've never purchased a powder...
Hey Guys,



I've never purchased a powder board before - i'm 6'4" - 220lbs. How does buying size change when looking for a powder board? Typically I ride a 162 all mountain board - I'm looking to get something more for powder and carving - what size of powder board should i be looking for?
Hey Neil,

Generally a powder board is going to have a wider nose than other boards and have a setback stance to keep your weight back on the tail for better maneuverability and better float. That being said I usually size up at least 3 cm's from my all mountain board to my powder board. It is really a matter of preference. I am 6' 150 lbs and I ride a Jones Solution 161 for powder. That is what I have found works best for me but could go shorter. I have also ben on a Burton Floater 163 for a pow board. The larger board you go with the better the float will be in deep snow since there is more surface area.



For your weight a 167 is the recommended size for a powder type board, I would go with something no smaller than that.
Thanks for your reply. I'll have to think it through - not even sure I can find a powder board in that size!
is there offered discounts to instructors?...
is there offered discounts to instructors? just asking because I dont have a lot of cash. mainly because im to young to have a job, but still.
Best Answer
13 Instructor,



Wow, love it that you're pursuing an awesome adventure in the Backcountry life through instructing at a youthful age. If you work for a resort they may have a discount code. You may also want to give one of the Backcountry Gearheads a call at 800-409-4502 and see how they can help you out.



Enjoy!



Scooter
Awesome!!!
Familiarity:

I've used it once or twice and have initial impressions
Just got home from my first day on the Cloudsplitter, & had to post...this thing is the real deal!!! We got 5" last night, & it snowed all morning. Probably a foot in all. This board is super easy to throw around, but also not sketchy at speed. I rode everything from groomers to trees today, & it handled everything like a champ. I love riding powder almost centered(1 inch back by design), & not worrying about nosediving. This board had a nice soft flex in the nose & tail, but nice & stiff between the bindings. If you are more surf inspired, than skate, this board is the shit!!!Might have to make this my daily driver. I also have a Landlord...stiffer, so its better on hard pack, but not as much "feel" in the pow.
Burton Family Tree Cloud Splitter