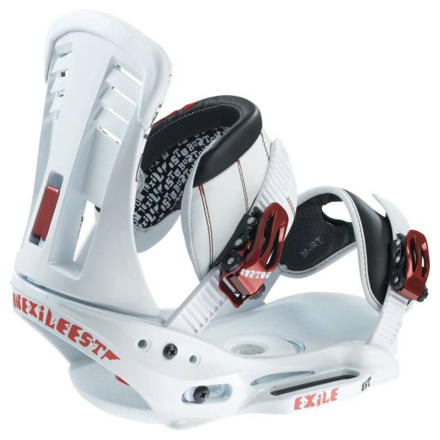 i'm not gonna lie to you folks i hate these bindings. you can't even barely ride with these.
I have a size 10 foot and i was wondering...
I have a size 10 foot and i was wondering if i should get the larges or mediums? since meds are 8-10 and larges are 10+. Thankss
Run the mediums, unless you have Fat boots. If you are running current burton park boots than you have no problem, they have a size smaller imprint in all their park boots. Usually mediums will be ok.
Pretty awesome and adjustable binding via the est system. I took em everywhere while in Austria. Shredded the park, off piste in the pow, down black, red, blue runs,...oh yeah! Money well spent :)
Really Comfortable and they look sick too! I got the mismatched color way and was sorta thrown off when i opened the box..basically all the colors are reversed on the white to black..they look really good though. As far as function i loved them. I like the wider strap for the comfort but also for the little extra control and extra press leverage you get. They were great for cruizing too. Def happy with the purchase...
These bindings are awesome. They probably are the lightest bindings I have ever had. Extremely responsive and definitley one of the best bang for your buck bindings that you can get. A must have for park junkies.
Channel Hardware, which is exclusive to the Channel System, comes with the Board, not the bindings. As EST bindings can only be mounted on boards featuring the Channel, sending them with bindings would be redundant.