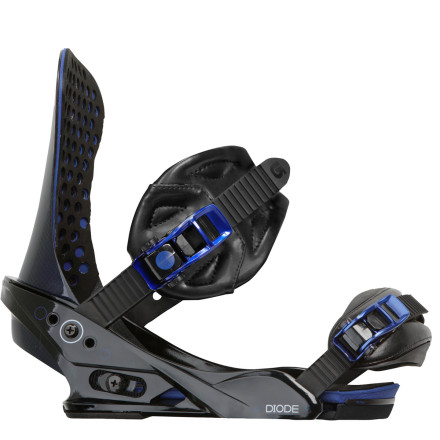 Detail Images

Community Images
Description
Freeride-focused precision.
The all-new Burton Diode Re:Flex Snowboard Binding delivers lightning-quick response in an absurdly lightweight package. The carbon composite highback and baseplate allow near-instant energy transfer, giving you more power than ever for maintaining control at eyeball-rattling speeds. Did we mention they're light? Not like 'trying to shed some weight' light, more like 'full-blown eating disorder' light. Except unlike your average emaciated supermodel, you can ride 'em as hard as you want.
Re:Flex hinged disc improves board feel and allows more natural flex (compatible with all mounting systems)
Super-light carbon-fiber composite baseplate and highback offer hyper-efficient energy transfer for powerful turns and lower brain-to-board reaction times
Pre-curved React strap improves toeside turning power and naturally matched the contours of your boots
Dual-component Smooth Glide buckles give you plenty of cranking power and buttery-smooth release
Share your thoughts
What do you think of the
Burton
Diode Re:Flex Snowboard Binding
? Share a...
Nice bindings
Familiarity:

I've used it several times
I also have the Genesis and find the Diodes way more responsive but also not as comfortable in the footbed. No breakage issues so far. I much prefer the FLAD on the Diode. 4 stars until I really have some time on them. The toe ratchet on the Genesis (same helix style) has frozen open a few times.
Rocked it 1st day, broke it 2nd day...
Unlike the other posters who have apparently had trouble with the carbon highback, my issue was with the ratchet mechanism on the toe strap...

On the first day out I thought these bindings were great, totally living up to the the hype (and price tag); they were super light, stiff and responsive. I have been riding high-end Union Metafuse MCs for the past couple of seasons but have had significant quality issues with multiple pairs (luckily the Backcountry guarantee had my back), and while I still really like Unions overall, I decided to try out the Diodes.

Unfortunately, on day two I found myself at the top of a resort run trying to ratchet down my back foot toe strap but couldn't get it to crank, I took the board off to find that the interior part of the ratchet mechanism, the area with the teeth, had snapped.

Whether due to cold, pressure or just plain defect...it was a big problem for a big dollar binding.

I am cutting Burton some slack and going 3 starts because I think it was probably just a defective part in an otherwise great binding system, but buyer beware more money doesn't always equal more quality.
Sort of light I guess, carbon fiber highback broke
Not THAT light (2 pounds each). Plus the carbon fiber highback on my back foot just broke for me. I'm def. not good enough to be breaking these. Other than that they worked OK, but I can't have a $400 binding breaking during normal resort riding. I had another cheaper pair of Bent Metal bindings for 10 years, slightly lighter and def. never had a broken highback after 10 uses.
great binders. very light and stiff and simple to adjust. perfect for free riding. I definitely recommend them.
On my second day of riding with these bindings, the back broke apart. The back plate split horizontally, but the carbon fiber sheet held it together long enough for me to make it down the mountain. Although the bindings are lightweight, they're thin and feel flimsy compared to more sturdy bindings. I wish I could recommend these, but carbon fiber is pretty much a gimmick.
Unanswered Question
FYI: The large size weighs 2 lbs per...
FYI: The large size weighs 2 lbs per binding.
i would have bought these if they had canted footbeds, not sure why burton left that out on these. they are what they say they are though. Super light, super responsive, high quality materials and construction.
i would have bought these if they had canted footbeds, not sure why burton left that out on these. they are what they say they are though
Was wondering about the connection features....
Was wondering about the connection features. Is it only for est or can it be used on 3 hole pattern boards
Hey there, this binding will work for all board styles; 2/3/4 hole pattern...
Yes, you can mount a Re:Flex binding on any 4 hole, 3 hole, or channel board.
Do I need the burton diode for my new...
Do I need the burton diode for my new baracuda and my custom flying V. I have a pair of c60 from 2 seasons ago. should I upgrade.
Amazing tech in the new Diode Re:Flex. Lightweight, responsive, and with carbon allowing it to be more powerful. If you are looking to put it on the Barracuda and your Custom FV, which have the channel, may want to look into the Diode EST. Take advantage of unlimited stance options, board feel, and the new hinge!
Hello. Advise me. These bindings are...
Hello. Advise me. These bindings are compatible with the Lib Tech T.R C2 BTX?
yes they are. these bindings will work with all brands.
Yeah you should have no problem
I got my hands on these last year at the B sample sale and rode them the last part of the year.

Pros:
- Feather light
- Extremely responsive--- one step above CO2.
- Super comfortable
- Great straps.

Cons:
- Probably too stiff for park
- There is no lean adjustment lever(at least on my sample) - You set the lean with the highback and can't adjust it without adjusting the entire highback.

I don't touch my lean once I get it set, so after a few adjustments in Tahoe, they were dialed and good to go.

The response is ridiculous and the highback is mega stiff( I think it's carbon fiber - FYI, anything with Carbon fiber is cool)

If you want lightweight combined with insane response to carve big lines, this is your binding.