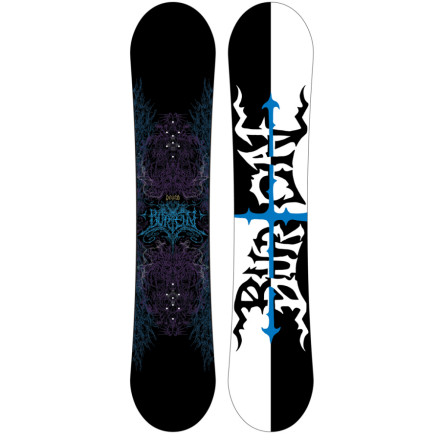 Having big feet is generally a good thing (you know what they say about big feet, yada, yada) but it's a pain in the ass when you have to choose between dragging your toes off the edge of your board or riding a board that's too long to have any fun in the park. Yetis rejoice—Burton's Deuce Wide Snowboard, the widest board it makes, has a waist sized for your giant boot as well as major snap, crackle, and pop all over the mountain.
Grip and Rip edge tune means the Deuce Wide arrives on your doorstep ready to slice the mountain up
Symmetrical twin shape rides just as easily regular as it does switch; directional flex helps maintain control and flow through all terrain and conditions
Lightweight Super Fly Core mixes up hard and soft woods to save weight and improve snap and response.
What do you think about this product?
Have questions about this product?
I found this board cheap on Whiskey Militia, and I bought it without doing much research. The few reviews I did read said that it was okay for all-mountain (I'm closer to a free-rider than all-mountain) so I bought it.

I don't think this board really qualifies as all-mountain. It's a twin, and very soft, so it falls into the park/freestyle area more-so than the all-mountain category. It doesn't do very well on ice or steeps or pow. I wouldn't recommend this board unless you're going to be using it exclusively in the park.

I wasn't super impressed, but hey, that's why I get for buying a board without doing research simply because it was cheap.

I'm replacing it with a Rossi Experience, which I think will be much better for me in the long run.
When will the size 166-168's come ot for...
When will the size 166-168's come ot for this board?
Best Answer
Hey Andy

Unfortunately because it is so late in the season we will not be getting anymore in stock...Sorry for the inconvenience.