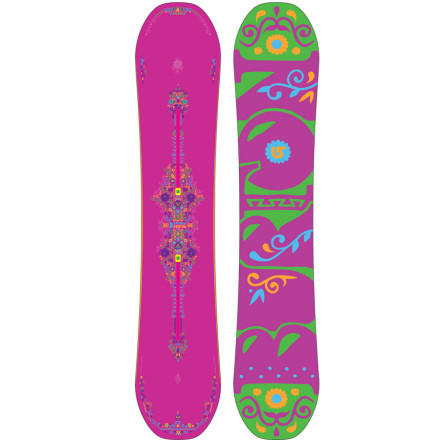 Community Images
There's no way you could have rocked the Burton Women's Déjà Vu V-Rocker Snowboard before now, because it is new for 2011. Perhaps you've had recurring dreams of shredding every inch of the mountain on an extra forgiving, poppy ripper that makes absolutely anything seem possible, which is why you swear you've enjoyed this board before. But really, this unique combination of playful, catch-free V-Rocker camber, Smooth Ride vibration dampening, and symmetrical twin shape is only now coming around.
Channel mounting system lets you fine-tune your stance width and angle to the max; when combined with Burton EST bindings, it provides ultimate board feel and control. Adaptable to most bindings
Frostbite Edges protrude just slightly from under your bindings to help you get a grip on hard, icy surfaces and power through crud
Lightweight Super Fly Core mixes up hard and soft woods to save weight and improve snap and response.
Durable, highly porous sintered base provides superior wax absorption for greater overall glide
Can I use my Union Milan Bindings on this...
Can I use my Union Milan Bindings on this board?
Hey Bec,

Not out of the box...this is an ICS board. You will need to get a conversion set up from Burton.
You can contact Burton Dealer Service and they will get you all dialed in.

Burton Snowboards - North America
Burton Dealer Services
80 Industrial Parkway
Burlington, VT 05401
Tel: 1-800-367-2951
Fax: 802-651-0311
E-Mail: dealer@burton.com
You can use your Union bindings on this board with the Burton M6 Transition Kit, but using Burton EST bindings will allow the board to flex properly and give you better board feel. EST bindings have a full EVA foam footbed as opposed to standing on a plastic or metal baseplate that traditional disc bindings use.
is the deja vu the women's version of the...
is the deja vu the women's version of the burton hero?? i rode a hero as a demo board this weekend and LOVED it -- but i'm having trouble finding it in stock in my size (154-155). there are some 154 deja vu's out there, though, so i was thinking about getting it if it's comparable. from the specs it seems like it is, but i wanted a second opinion.

i'm an intermediate rider, mostly groomed runs and powder, hoping to eventually get better in the park.

thanks!!
Yes the deja vu is the women's version of the Hero. If you liked the hero you will love the deja vu. I would definitely recommend buying a women's board NOT a men's board. Even if you are an intermediate or advanced rider you will benefit hugely by riding a women's specific setup. Women carry their weight differently then men therefore boards are cut and made differently as well as narrower. You will progress faster riding a women's specific board
As with other Burton boards, this one is still very soft and I wouldn't recommend it for an aggressive rider. How ever this is a fun twin tip that rides well both ways and has a pretty good pop to it. Not the most memorable board to ride though.
Best board i hve ridden in ages bout it for the pow here in whistler but found it amazingly versitive even for those icy carving days
What is the difference between the Burton...
What is the difference between the Burton Deja Vu and the Burton Lux? Is one better than another?
The Deja Vu has an upgraded base, and core. The core is stronger and lighter. Both are twin shapes and have the same flex. The Deja Vu is a more aggressive board, it will be better if you are a more aggressive rider. The shape is amazing as well.
The Burton Deja Vu is one versatile momma, you could be looking for some fresh snow in the trees or taking some laps in the park. This board V-rocker lends itself to a fun and aggressive ride that performs in any condition. with the addition of Jumper Cables, carbon stringers that are in the base to add pop and stability to the rocker-ed board, it transitions from pow to pack to park with out hesitation. All in all a great board with a killer graphic.
A good beginner board to learn v-rocker?...
A good beginner board to learn v-rocker? Or crambler ? I've never slipped, and now wants to try. I want you to easily learn.
Best Answer
V-rocker is going to be way easier learn on. A lot easier than camber. It raises the contact points to make it a lot more forgiving. Good times for sure.